Alpha Kappa Lambda hosts DayGlow for charity
Funds from the third annual paint party go to Operation BeYoutiful
Hang on for a minute...we're trying to find some more stories you might like.
Normally, paint is used for decorating purposes and to make things look nicer. But when the California University of Pennsylvania's Chi chapter of Alpha Kappa Lambda (AKL) recently bought 15 gallons of paint, the goal was to make a mess at the annual DayGlow charity event.
Tickets were $10 prior to the event and $15 at the door of the AKL house at 600 Wood St. The chapter currently has 22 members, and many helped in the organization and preparation of the event.
"The philanthropy chair, Michael Mari, keeps in contact with Operation BeYoutiful," Anthony Agostini, vice president, said. "Our social chair, Nick Carusone, made great efforts to get most of the sororities to sponsor DayGlow. Our treasurer, Ryan Edie, collects the proceeds and organizes ticket sales. Our president, Jake Giffin, oversees all the aspects of DayGlow to ensure it will be a success."
This was the third year for the event. Proceeds from ticket sales go to Operation BeYoutiful, AKL's local philanthropy project. Preparations like ordering the paint and the tickets began in mid-February. More than 100 people attended this year's DayGlow.
In order to become a sponsor for the event, a monetary donation was required. Local businesses and organizations like Alpha Sigma Alpha, Sigma Kappa, TimeOut Batting Cages, and Best University Properties all were sponsors for DayGlow.
"All members are required to participate but participation has never been an issue," Agostini said. "The AKL brothers are very enthusiastic about DayGlow and passionate about raising money for Operation BeYoutiful."
At the alcohol free event, paint was thrown around as attendees danced to music provided by Cal U alumnus Ryan Tubbs. Tubbs served as the DJ for the event, and volunteered his time to help serve Operation BeYoutiful.
Corrine Dowlin attended the event for the third year in a row with several members of her sorority, Alpha Sigma Alpha.
"You're just standing there minding your business and the next thing you know you're covered [in paint]. It brings out the kid in you- it's such a good time," Dowlin said.
Agostini said, "Operation BeYoutiful does more than provide a wig, they help little girls going through their illnesses maintain self-confidence. AKL feels that the work Operation BeYoutiful does is very rewarding."
So far, Operation BeYoutiful has provided three girls with wigs.
"I think it's absolutely incredible," said Dowlin. "I've had a close friend go through chemo and lost her hair- wigs are so expensive. Their willingness to give to a cause like this is just truly wonderful."
Operation BeYoutiful was founded at Ohio State in 2013. It was at Ohio State University that Agostini had a chance to see a wig reveal in February. He was president of AKL in 2015, when the funds were raised. Agostini's close friend is the founder of Operation BeYoutiful, and that is how he became aware of the charity.
AKL donated $2,500 from last year's DayGlow to Operation BeYoutiful, and it was the use of these funds that a wig for 12-year-old Gabrielle Poulakis was made. Poulakis has alopecia, which is an autoimmune disease that causes her hair to fall out.
Other organizations, like Locks of Love, that provide wigs for girls suffering from hair loss have certain income specifications that Poulakis's family did not meet, according to Ashley Reigert, vice president of Operation BeYoutiful at OSU. Wigs cost around $1, 500, she said.
"This was my first time experiencing the work that the members of Operation BeYoutiful do," Agostini said. "The work and commitment by the members of Operation BeYoutiful is incredible. When the girl puts the wig on for the first time is honestly a life changing experience."
The wig reveal also included giving Poulakis a flower crown, a necklace, and taking her out to dinner. John Rutter, Operation BeYoutiful's wig specialist, made sure that Poulakis's wig had just the right fight and look, Reigert said.
As of right now DayGlow is the only event AKL has that supports Operation BeYoutiful, though members are working on other events or ways to contribute to the charity, Agostini said.
He said, "I wish everyone who participated in DayGlow was able to see it [the wig reveal]."

About the Writer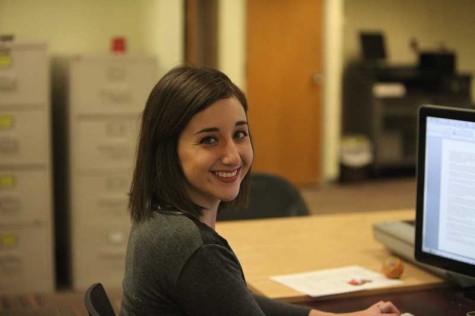 Lauren Griffith, News Editor
Lauren Griffith has been involved with the Cal Times for three years, and staff for two years. She is also involved in Society of Professional Journalists,...