Philadelphia Native Ran'D Shine Brings Magic to Cal U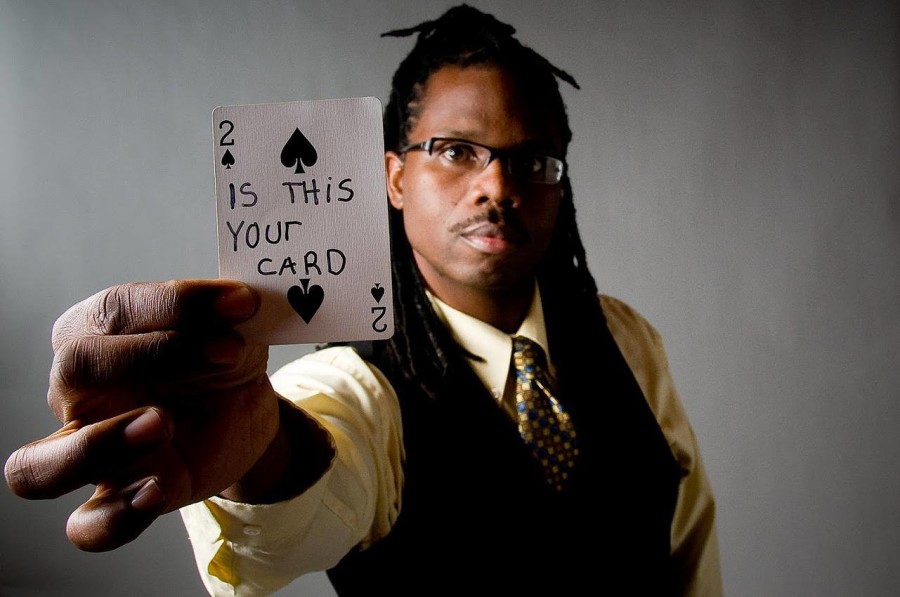 Jess Crosson, Cal Times Contributor
April 8, 2016
    On March 30, Philadelphia native Ran'D Shine performed a comedic magic show in the Vulcan Theater. Before being brought to Cal U, Shine has had plenty of other performances. Some events Shine performed at were the "Salute to Heroes" at the 44th Presidential Inauguration Banquet and Ball in 2009, a one-man show in South Africa titled "Mysterious Ways", and 20 other performances at The South African National Arts Festival in Grahamstown, South Africa.
   Shine's involvement in magic began when he was in graduate school at Penn State University.
   "I was in the school cafeteria and I saw some students doing card tricks and I joined them. That started my initial interest in magic," shared Shine. "I didn't become a full time magician until maybe ten years later."
    Shine moved to South Africa after he finished grad school to do research at the University of Western Cape. He moved back to the United States and began working for the University of Pennsylvania in the department of epidemiology and biostatistics doing HIV research. While working there he was also in a PhD program at Drexel University studying public health. It was after a year and a half that Shine decided to pursue his passion instead.
    "I decided to give myself one year to do magic. If it doesn't work out I'd come back. Well, I never came back". Shine stated.
Little did many Cal U students know, but Shine was going to be trying out a new trick during his show that night. Before the show, some of the audience members were handed a pencil and a bright green note card. On that piece of notecard the member could write anything from a person, place, number, object, or anything really. The cards were then collected and redistributed to different audience members of whom Shine proceeded to read the minds of and guess what was written on the notecard they received. Varying things from the name of a former president to a random month and day were guessed leaving the audience stunned at the very thought of that being possible.
   "I'm really glad I tried that trick tonight. It was my first time," Shine confessed. "It went so well".
     Many students picked that moment to be the highlight of the night. One of the students whose mind was read by Shine commented on her experience and even requoted a joke about him being "black Jesus" which he mentioned earlier in the show.
     "My mind was literally blown," freshman Katie Wankel stated. "He was truly black Jesus".
     His magical comedy wooed the audience at Cal U making many of them wish the show never had to end. Shine wanted to leave a piece of advice for any students that want to pursue a career in magic.
    "Number one, do not waste any or most of your time trying to learn magic off of YouTube, video, or any social media sites. Try to find someone who is already performing and you can learn much more from that person than anything you can learn off video. They can explain the psychological principles and the meaning behind that sleight of hand and you should read books," Shine insisted.
    "Have patience. Crawl before you walk, walk before you run, run before you fly. There's a process. If you jump into that [career] before you're ready for it that will do more damage to your career and could end your career. Take your time and be patient. Learn the fundamentals and that's the best advice I can give to anyone."