Women's basketball and their run for the playoffs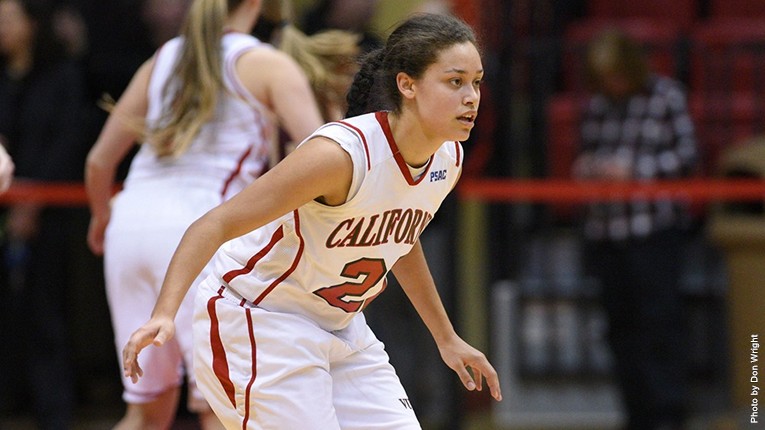 Imagine possessing a seven game win streak, coming into the final three games of the regular season. After winning the national title, just a year ago, this is the situation that the California University of Pennsylvania women's basketball team is faced with. In the past seven games of their schedule, where they had the advantage of being at home, and the daunting task of being away, they found a will to succeed. Each and every game of their impressive season, one can see the team unity being amped up in all aspects. Not many people win back to back titles, but if there is any team that could step up to the plate it's this one.
The Vulcans season started out in a tournament, hosted by the West Liberty Hilltoppers, a tournament in which did not go the Vulcans way. The loss to the West Liberty women's team, however, stirred up a drive to succeed, much like the drive the Vulcans had last season en-route to a national title. The numbers in that game, compared to the numbers that this team is putting up now, don't even come close. In a game against Davis & Elkins on February 6 the same Vulcans team produced 101 points, compared to the 65 points they put up against West Liberty. People could construe this victory in any way they want, however, this game proved that every single girl out on that court is valuable to this team's success.
In many games throughout the season, stars arose in ways that they haven't before. Names such as Miki Glenn, Shatara Parsons, Precious Martin, Paige Wright and Seairra Barrett always step up, whether it's through rebounds, points or even assists. Miki Glenn has averaged 19 points on the season, while Seairra Barrett leads the team in rebounds with 10.4 a game. This team doesn't stop with the statistics either, even stepping up against the better teams in their conference. In the game against IUP, in front of a nationally televised crowd on ESPN3, three of the Vulcans had points in the double digits along with 36 team rebounds.
What is most impressive about this team is their young talent off the bench. Emily Suckling had 22 points, along with the title of PSAC West Freshman of the Week due to her performance against a Davis & Elkins team at home. Abbey Sporio, a transfer from Pitt-Johnstown also had to make her mark with the Vulcans, and in only eight games this season, she tallied 13 steals. Players who still have yet to make their mark are new to this team as well. Look for the younger players to adopt the traits of the senior players on this team and make a splash in the PSAC.
All in all, this team is strong, passionate, and will not back down to anyone. Once this team has a goal in mind, they cannot be stopped. The Vulcans will not settle for anything less than another national title, and that's what is in the back of their minds every time they take the court.
About the Contributor

Daniel Beeck, Editor-in-Chief
Daniel "Danny" Beeck is currently a senior at California University of Pennsylvania, studying Communication with a concentration in Radio/TV. Along with...