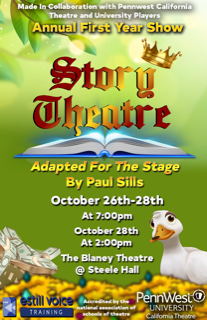 PennWest California Theatre's new play for first year students, Story Theatre, is live.
Be sure to check it out at the Blaney Theatre at Steele Hall this Friday, Oct. 27 at 7 p.m. and Saturday, Oct. 28 at 2 p.m. and 7 p.m. PennWest California students are free with a valid Cal ID. Non-students are $12 for adults and children/seniors are $8. Tickets for the shows can be purchased here.
Be sure to check out Story Theatre, before the last showing.
Story continues below advertisement