PennWest California Theatre's new play, All in the Timing, is live.
Be sure to check it out at the Blaney Theatre at Steele Hall this Friday, Oct. 20 at 7 p.m. and Saturday, Oct. 21 at 2 p.m. and 7 p.m. PennWest California students are free with a valid Cal ID. Non-students are $12 for adults and children/seniors are $8. Tickets for the shows can be purchased here.
The show, All in the Timing, is hitting the road and traveling to Clarion for a show on Sunday, Oct. 22 at 6:30 p.m. in the Little Theatre at The Marwick – Boyd Fine Arts Center.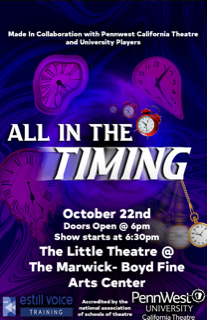 Story continues below advertisement