In a week of entertainment and long-standing traditions, PennWest California celebrated Homecoming this past Monday through Saturday, Oct. 9-14.  The week concluded in the annual Homecoming parade and football game, where even rain and wind did not put a gray cloud over the festivities.
Monday began with a bingo night to kickoff the week.  Students flocked to the Natali Student Center to be awarded different prizes, such as food and gift cards.
The following day included the Health Fair occuring in the Natali Performance Center, providing students with free health screenings and information on maintaining healthy habits, as well as food giveaways.  The Homecoming Court was announced later that night, which included the five men and five women who received the most votes for King and Queen.
The 2023 Homecoming Court was composed of Bria Allen, Taylor Christopher, Sierra Everett, Sarah Seader, and Elizabeth Shelly as the Queen candidates, and Darrek Harshberger, Sebastian Ramos, Jonathan Sakaguchi, Jonathan Sape, and Gavin Wingard as King candidates.
Story continues below advertisement
On Wednesday, the Student Activities Board collaborated with the Rainbow Alliance in sponsorship of a drag show.  The show featured several performers who shook up the Natali Performance Center by dancing and singing to several popular songs.
At 8 p.m. on Thursday in the Natali Performance Center, students saw comedian AJ Wilkerson perform. And on Friday, the Class of 1973 50th reunion took place, as well as the AAAs/BSU Panel Discussion in Steele Hall.
Homecoming Week concluded on Saturday as students and alumni lined the streets to watch a "Back to the Future" themed parade. Several clubs and organizations participated, and Greek life organizations revealed themed floats that they had spent weeks preparing beforehand.
Despite Saturday's downpour, students flocked to Adamson Stadium for tailgating events that preceded the football game, filling the park with music and games.  Food trucks and drink vendors were also present.  The Cal U Vulcans took on Seton Hill, bringing home a victory.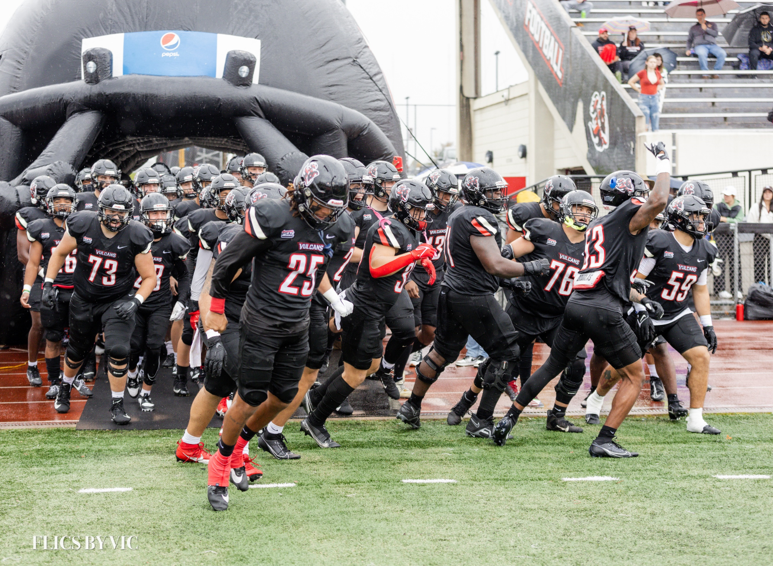 The announcement of the Homecoming King, Darrek Harshberger, and Queen, Sarah Seader, occurred during halftime.
Harshberger expressed that the overwhelming support he got from campaigning and being able to represent his many clubs and organizations, as well as the LGBTQIA community, made the entire experience worthwhile.
"I was overjoyed to hear my name announced and be surrounded by my best friends, and to have my mom and brother there as well." said Harshberger. "I'm super grateful for everyone.  It's amazing to be able to represent so many clubs and organizations and ideas."
Seader stated, "I am honored and blessed to have been elected the 2023 Homecoming Queen! While some may think of it as a title, I see it as an opportunity for my many sponsors to be recognized for their hard work and commitment to the campus. The support from everyone was truly overwhelming!"
Seader continued, "The Media Suite was well represented with three members on Homecoming Court! I truly believe in having all voices heard, both loud and soft. It was wonderful to hear all the loud screams from my friends in the Media Suite, New Life, Honors Program, and other clubs when my name was announced. I am completely honored to represent PennWest Cal as the 2023 Homecoming Queen!"