On Sept. 11 2001 lives were forever changed. Our world as we knew it was never going to be the same again. On this fateful day, terrorist attacks took place impacting the Twin Towers in New York City, the Pentagon in Arlington, Virginia, and a field in Shanksville, Pennsylvania.
On the 22nd Anniversary, we honor the 2,977 people killed in a senseless act of violence, against not only our country, but the world. With children and young adults today being born after 2001, it is more crucial than ever to remember those we lost that fateful day. With thousands injured and impacted by the events of that day, the 20 survivors from the Twin Towers lived to share, not only the emotional impact of losing loved ones and friends, but were also able to highlight the bravery of those first responders and coworkers trying to help each other.
On Monday, Sept. 11, 2023, the PennWest California Criminal Justice Club hosted a viewing of the Remembering 9/11 Webinar. This was the only event on the PennWest California Campus that honored and remembered 9/11. This webinar was hosted by Dr. Grace Telesco, a professor at Nova Southeastern University, along with special guests, Retired Detective 2nd Grade Michael Theogene, and Police Psychologist Dr. Vincent Van Hasselt. The main focus of the webinar was the impact on first responders.
Ret. Detective Theogene mentioned the story and impact of Moira Smith, who was the only female New York Police Department Officer to die on Sept. 11. He mentioned her heroism and selflessness and how she put everything aside, including her own wellbeing, to help others.
Story continues below advertisement
Several first responders set out to save whoever they could, no matter the outcome. 343 New York Firefighters climbed the 110 flights of the Twin Towers and never made it back out. Now, every year firefighters across the country climb stairs in full gear to honor their bravery.
"You could see papers floating from the World Trade Center and into our backyard," Ret. Detective Theogene stated when recollecting about the reach of the damage near Ground Zero. He also mentioned how people were trying to walk away and just get home; however, like NYPD Officer Smith, not everyone was able to go home that day.
Dr. Telesco stated, "Trauma remains on many. Trauma stays on you like the dust stays on us, we couldn't get it out or wash it out."
Much like Alan Jackson's song titled, "Where Were You (When the World Stopped Turning)", that is a question that the new generation cannot answer. This is why honoring these heroes and keeping the events of 9/11 in our memory forever is so crucial.
After the webinar wrapped up, the panel answered questions from the audience, including one from a student who was born after 2001 and asked, how can we continue to remember? Dr. Vincent said, "Remembering and paying tribute." He also highlighted the importance of having knowledge, because knowledge is powerful. Dr. Vincent stated that the younger generation doesn't seem interested in 9/11. He mentioned 9/11 just seems like history to most of the younger generation.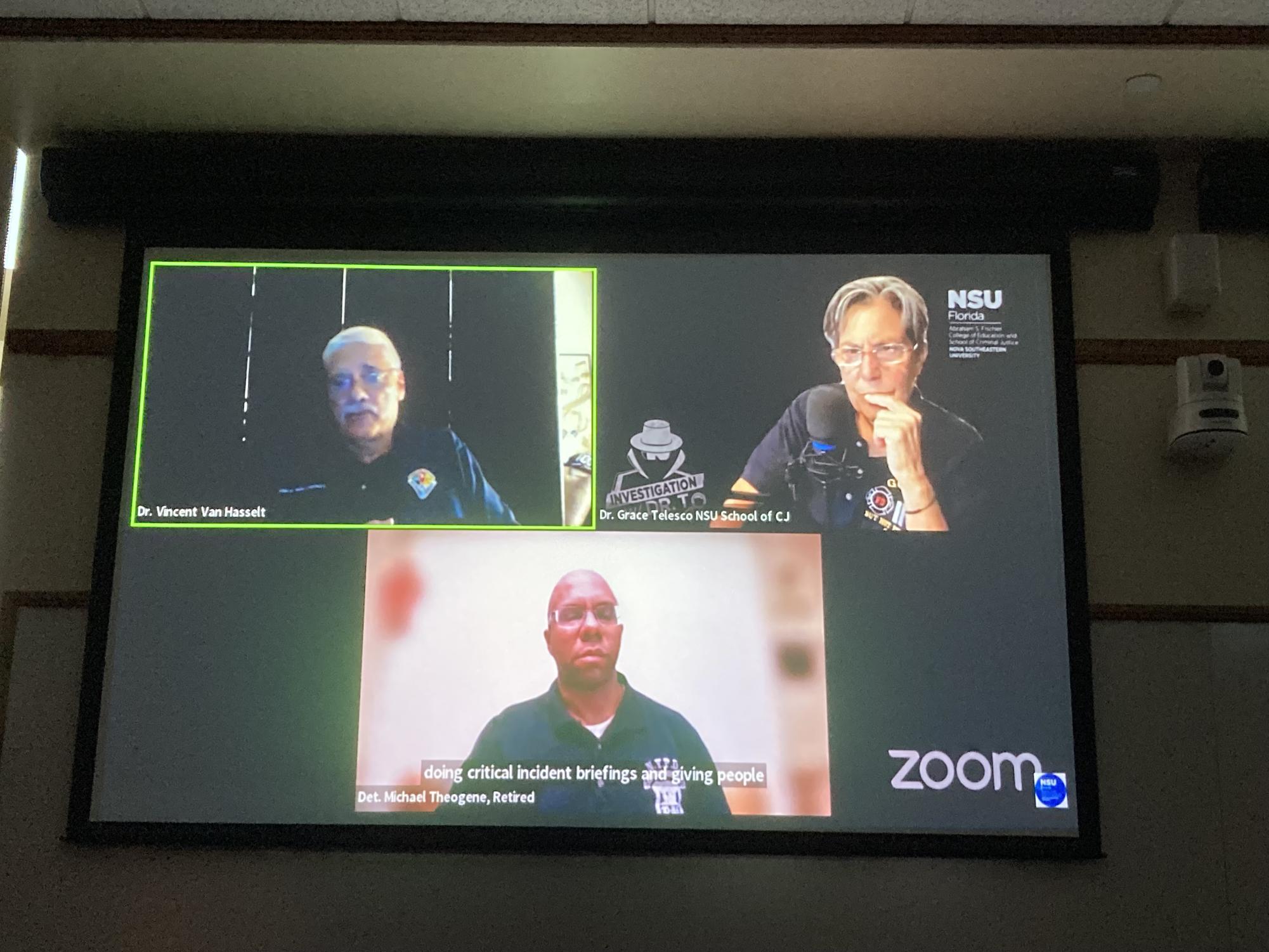 Another student on the webinar asked about lessons and takeaways learned from 9/11. Ret. Detective Theogene stated, "Appreciate every moment you have and appreciate that gift you have. Every precious waking moment I have is a precious gift and do not throw it away."
Senior Criminal Justice major and President of the Criminal Justice Club, Cassidy Nodaros, iterated the importance of 9/11 due to the lives lost. She stated, "The first responders sacrificed a lot and it is important to remember and honor them."
Jake Ponzani, Senior Criminal Justice Major and Secretary of the Criminal Justice Club mentioned how we should continue to focus on the victims and their families, as well as the first responders and EMS. He stated, "They put their lives on the line and it just as much affected them." Ponzani also said, "9/11 is especially important with our generation since most of us were born afterwards."
No matter where one was on 9/11, whether they were watching the events unfold in person, on TV, or even if they were not yet born, it is crucial that we remember now and forever.