WCAL Rocks on with Vinylthon
Over the span of April 22nd and April 23rd college radios across the country joined in on Vinylthon, with the The Rock N Roll Hall of Fame and the College Radio Foundation joining together to bring this event alive.  In 2022, over 100 college radio stations joined together for the third annual Vinylthon.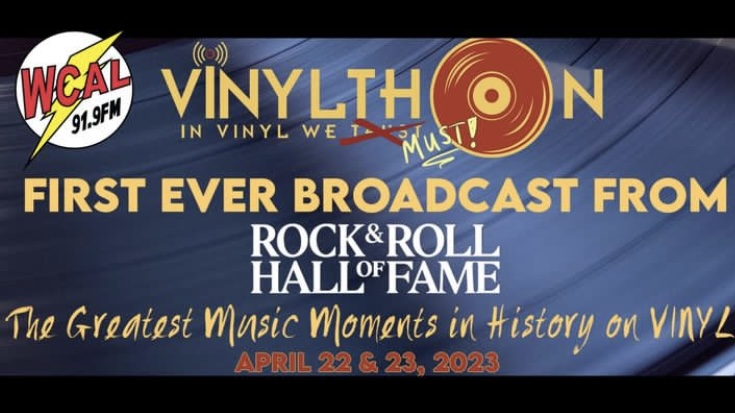 Several members of the WCAL joined in for the fourth annual Vinylthon, starting Saturday afternoon. DJs Jonny Bear (who was on from 7pm-11:30pm), DJ Reaper (who was on from 4pm-6:35pm), DJ Whole Wheatz who was on from (11am-2pm), DJ Pamdemonium (who was on from 4pm-6pm), and DJ Timberwolve (who was on from 6pm to 9:45pm with an appearance from DJ J-Smooth). Each DJ brought in dozens of records and it was fun watching the DJ's come up with a playlist on the fly. With different artist such as Elvis, Michael Jackson, and Huey Lewis and the News, to more youthful ones which included Alvin and the Chipmunks, Mickey Mouse, other Disney Songs.
All the DJs agreed that there was a good feeling of hearing the static before the song came on and just playing the old school records. The crew is now in talks of just doing random shows with this, but all are willing to return to the studio next year for Vinylthon.
The CRF and Vinylthon also have shirts for sale, and the money goes to the Vinylthon Scholarship and The Golden Slipmat Award and the Distinguished Production Metals. For more information go to www.Vinyalthon.com to learn more