Two PennWest California DECA Students Are International Finalists
Two students from PennWest California's DECA Chapter competed at the International Career Development Conference (ICDC) in Orlando, Florida April 15-19.
Collegiate DECA's Annual International Career Development Conference (ICDC) was held in Orlando, Florida from April 15-19. 1,200 students from all around the world gathered together to compete in various business categories. DECA's mission is to prepare "emerging leaders and entrepreneurs for careers in marketing, finance, hospitality and management."
ICDC offers opportunities to network, compete in team or individual events and written prepared events in over 25 different categories, while also learning and growing from other chapters and industry leaders.
Based on PennWest California DECA's hard work and dedication this year, they were one of only 12 chapters internationally to earn the Top Chapter Award, Chapter Leadership Passport Presidential Award.
Chapter President and ICDC Competitor, Sarah Seader, also earned an individual Leadership Passport Presidential Award, based on her individual efforts and contributions to grow membership, participate in charity events, submit articles to DECA Direct, and provide other growth opportunities.
PennWest California sent two students to compete in Orlando: Jessica Galla and Sarah Seader. Throughout the conference, DECA students had the opportunity to network and compete in the DECA GooseChase Challenge in which PennWest California took 1st Place in a four-way tie!
Senior Jessica Galla competed in a written event in the category: Entrepreneurship – Starting a Business. Her business pitch focused on electric vehicle charging stations. Galla earned a Semifinalist Medallion and earned the opportunity to compete in the final round of competition. She then went on to earn a Top 10 Finalist Medallion.
Junior and the Voting Delegate for Pennsylvania, Sarah Seader, competed in Marketing Management. This category involves a 100-question exam and an on-the-spot case study where each student is given 30 minutes to read a topic and come up with a business solution detailing out budgets, focusing on ethics and morals, while also adding in creativity from both a management and marketing aspect. This information is then formulated into a 15-minute presentation to a panel of judges.
During the first round of competition, Seader earned two Medallions: a Semifinalist Medallion and a Top Performer Medallion for scoring the highest score on the Role Play. She then earned a spot in the finals to compete, and then earned a Top 10 Finalist Medallion.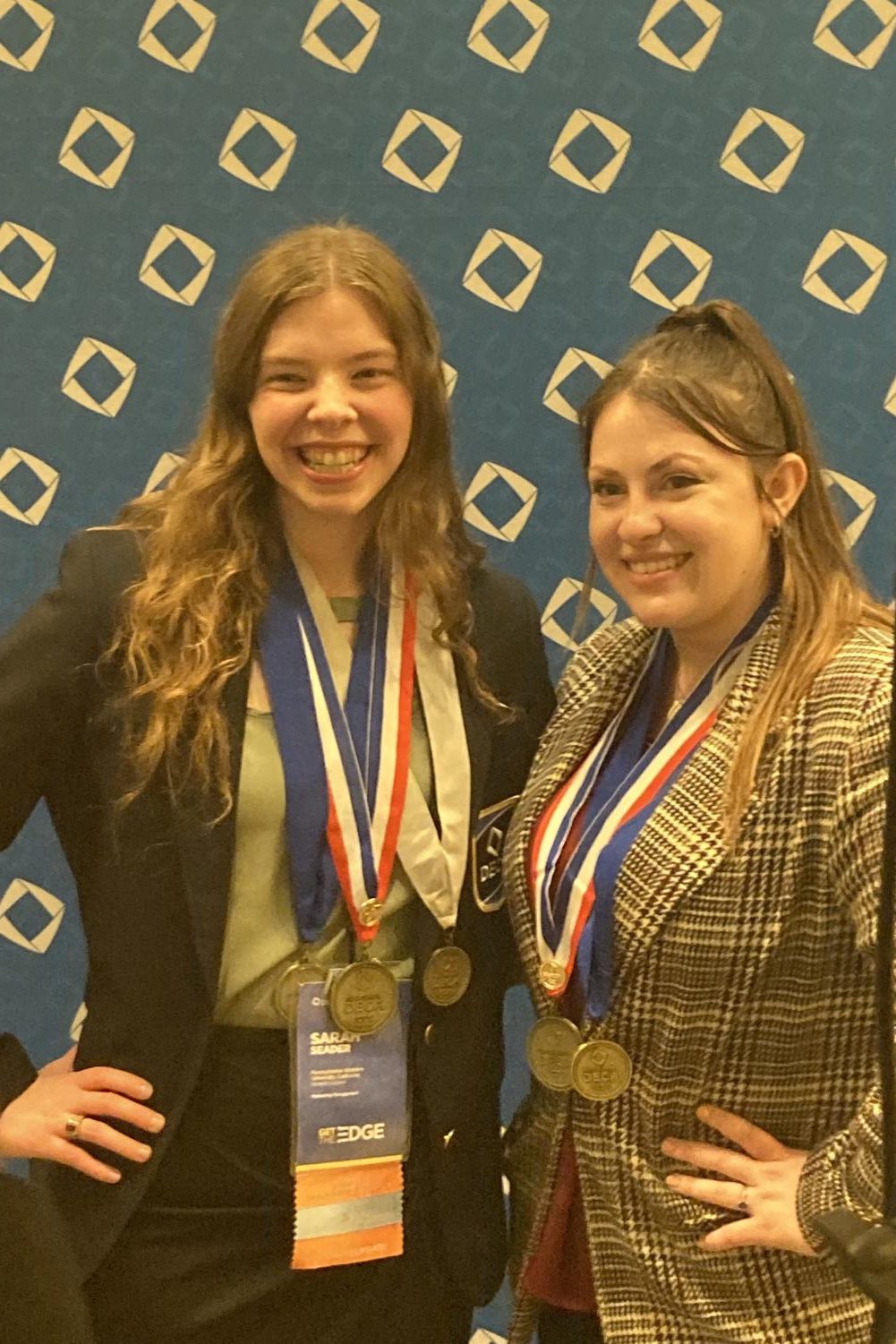 This year marks history as it has been many years since someone from PA has earned a finalist medallion at Collegiate ICDC!
Pennsylvania Western University Department Chair for the Department of Finance, Accounting & Economics, Dr. Paul Hettler, was also present at the conference. Hettler judged in the Business Research category. Dr. Hettler, along with the two chapter advisors, Dr. Edmund Matecki and Dr. Mark Lennon, encourage all students to learn more and become involved with DECA as it provides many unique opportunities for personal and professional growth.