The other side of the screen: Cal U professors and their experience teaching via Zoom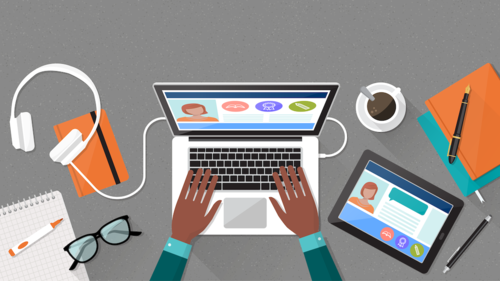 Every morning, California University professors start their classes by logging onto their computer and signing into Zoom. Rather than seeing students come into a physical classroom, professors watch as their students trickle into a virtual call one by one. It is different than what they are used to, but they do it day after day.
"When teaching in face-to-face classes, I read facial expressions and body language, and I learn more about students' responses to the ideas we're sharing," Cal U professor Brent House said. "Teaching online, especially when students have their cameras off, takes away many of those visual clues."
Professor Keat Murray of Cal U also said he had a similar issue and struggles to know when students are actually paying attention in class and would like to incorporate more student participation in his class by using tools provided by Zoom.
Another problem facing professors is changing their course material to prepare for online learning. House said he had to add software online to help him manage peer responses because it would be "near impossible to organize through remote teaching."
Murray also said he had to make significant changes to his course material as well, including removing entire novels from his class schedules.
A major concern with remote classes seems to be the student participation and reflected grades.
"An instructor cannot tell if an assignment helped students learn until after the students have finished it and it's already graded," communication studies professor Gregory Spicer said. "It takes constant attention to the design and redesign with that kind of course."
However, with as many challenges as professors faced moving online, some of them discovered teaching online has many benefits.
Murray said he noticed that more students were coming to office hours and reaching out for help compared to when classes were on campus. He said he would like to continue to have office hours available on Zoom to encourage more students to reach out at home and not feel restricted to the office hours available on campus.
Murray also stated that he would consider doing some sort of hybrid learning occasionally in the future.
"Instead of having all three meetings in person maybe have one a week if that can free people up a little bit," he said. "I know a lot of students work. A lot of students have family responsibilities. I'm hoping that would help with that situation. I feel like that's a student need."
House expressed a similar sentiment.
"In remote classes, students are often having side conversations in chat, and while those conversations would be so disruptive in face-to-face classes, they're often very beneficial in remote classes, as students ask and answer questions or add details to a discussion," House said. "I'd like to keep this part of our classroom when we move back to face-to-face learning."
Criminal justice professor Christopher Wydra also expressed that he would like to incorporate Zoom meetings into his face to face classes.
"I feel that they could be useful outside of class to quickly answer questions or to get a student on track if they are behind in class," Wydra said.