"I write for people who know how to read"
Award-winning novelist T.C. Boyle visits Cal U, discusses creative process
"None of these stories has an outline. I never work in that way," said author T.C. Boyle about his writing process. "It just kind of happens and I follow it to find it out what it means or why I am interested in a given subject." 
Last month, T.C. Boyle, famous author of such novels as The Women and The Terronauts was invited to California University of Pennsylvania to give a reading. On Sept. 11, he read a piece from his latest work of fiction to an audience in the Convocation Center. Before he stepped on stage, the Cal Times conducted an interview with the author about his inspiration, writing process, character creation, life, and other topics. 
Born on Dec. 2, 1948, in Peekskill, New York, Thomas Coraghessan Boyle has been writing professionally since the mid-1970s but has been writing all of his life. Originally born Thomas John Boyle, he changed John to Coraghessan, the name of an ancestor of his mother, when he was 17. He obtained a bachelor of arts in English and History from the State University of New York in 1968, and M.F.A from the University of Iowa's Writer's Workshop in 1974, and a Ph.D in English from the University of Iowa in 1977. He has written 16 novels and more than 100 short stories. He was awarded the PEN/Faulkner Award for Fiction in 1988 for his 1987 novel World's End, and the "Prix Medicis etranger" award in 1995 for his work The Tortilla Curtain, released in the same year. His famous collections of short fiction include Greasy Lake and Other Stories, If the River Was Whisky, The Human Fly, Without a Hero, and more. 
During a reception that preceded the formal stage presentation, T.C. Boyle sat down with us in a side room in the South Wing of the Convocation Center. Before the interview began, T.C Boyle already presented himself as the very kind, down-to-earth and authentic individual that he is. We had already discussed a shared interest in blues music, particularly over the artist John Lee Hooker, who Boyle first saw performing in New York City in his youth.    
When asked about his process, Boyle says there isn't a fixed method to his process. He finds a theme or subject to follow and goes with it. He never plans it out, it "just happens." Often his themes include the misguided efforts of the male hero and slick appeal of the anti-hero. His stories contain an undertone of brutal satire and humor, and sometimes levels of magical realism. His fiction often captures the ruthlessness and unpredictability of nature and the toll that human society has on the surrounding environment. 
His reading for the night, entitled The Lie, captures those themes in a relatable, yet harrowing tale. The Lie is about a man who simply tells a lie to get out of work for a day. However, he continues to perpetuate that lie to continue avoiding work, so that he can do various activities during his free time, such as surf, go to the movies, and make his wife and infant child dinner. Eventually, the lie leads to various social problems for the family. While short, The Lie is a perfect reflection about "misguided efforts for a male hero," and continuation of many themes T.C. Boyle already explores. 
One of the most fascinating aspects of Boyle's writing is his characters, particularly in The Women and The Human Fly. The Women is about the life of Frank Lloyd Wright, told through the perspective of four women in his life. In this work, Boyle captures the female perspective in a manner most male authors fail to attain. The Human Fly's protagonist, Zoltan, is a larger than life character who dons the outfit of  a daredevil and wishes to achieve fame through daredevil stunts. 
"I wanted to write about fame, because I was getting famous," Boyle said, addressing Zoltan, "and how you handle that and what does it do to you? He was a guy who wanted to be famous in his own way."  
When asked about writing from the perspective of women, T.C. Boyle responded with a recollection from his earlier days.  
"When I first began to write, like my early stories in descent of man, my wife would always say 'Your women are really flat.' I said 'Yea so are my men.' I think I've learned how to deal with it by writing novels and expanding characters. I take it as a challenge to write from anybody's point of view of any age and so on, like a lot of the stories in the collection." 
He then went into detail about how the hardest one he had to write, as a challenge for himself, was San Miguel, a novel set in the later 1900's through the story of three women. He discussed how he wrote it without irony, because he was working from a fragmentary diary and a memoir.
However, he follows the same philosophy in creating characters as he does for creating stories, "I don't plan it out, it just happens."
We discussed the process of creating, and the feeling created after completing a piece.  
"Each time I finish a story or a novel, it just feels like you are in heaven. In This Monkey, My Back, I am likening this to a drug high because you get this rush at the end. Next day, though, it's gone and you've got to have it, and there is no ending. And I'm very hardcore. I mean, I don't work in the movies or write plays or write journalism or anything else. This is all I do. Nor do I give speeches or lectures. I love to just perform and remind people why we love stories."
A big question facing authors is about their audience, and how do you write for your audience. T.C. Boyle replied with one of the best answers to that question ever given, "I write for people who know how to read."
About the Contributors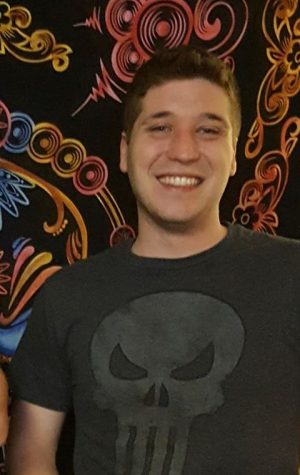 James Rudolph, News Editor
James Rudolph is originally from Pittsburgh and graduated from Central Catholic High School in 2011. From there, he went to Temple University and studied...