(Photos) Softball opens season at home with a celebration for renovated Lilley Field, sweeps Gannon
March 17, 2021
The California University of Pennsylvania softball team debuted renovated Lilley Field in impressive fashion on Tuesday afternoon, March 9, by opening the season with a pair of run-rule victories against Gannon, earning an 8-0 victory in Game 1 and a 10-2 win in Game 2.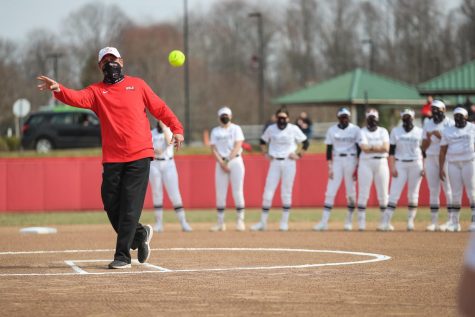 The Vulcans begin the campaign with a 2-0 mark, as all of their contests this spring are scheduled against Pennsylvania State Athletic Conference (PSAC) West members. Cal U played at Lilley Field for the first time since April 30, 2017 – a span of 1,409 days. Meanwhile, the Lady Knights sit at 0-2 to start the year after being selected the preseason PSAC West favorite in the coaches' poll.
In Game 1, sophomore Ellie Lobdell  surrendered just one hit and zero walks while tallying five strikeouts over 5.0 scoreless innings (49 pitches). She allowed a base runner in the top of first on a hit by pitch before retiring 12 consecutive batters until yielding a one-out single in the fifth.
The Vulcans capitalized on an error to start the bottom of the first with senior first baseman Paige Wilson  lining a two-run double to right center. Freshman center fielder Alyssa Young  later registered a two-run homer in her first collegiate at-bat to stretch the lead to 4-0.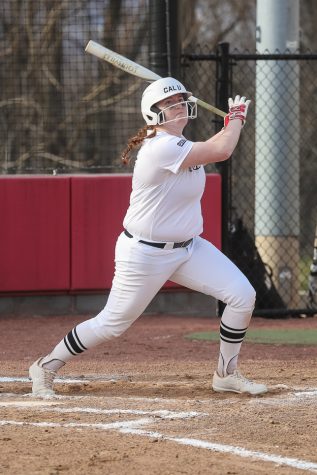 In the third, Cal U seized momentum following a two-out error with a two-run homer by freshman right fielder Charity Henderson . The Vulcans forced the run-rule victory with RBI singles by senior shortstop Alexa Pastor  and freshman second baseman Salena Jaquay  in the bottom of the fifth.
Wilson went 2-for-3 with two RBI and one RBI, while senior catcher Brooke Wilson  tallied a pair of hits and one run scored. Henderson and freshman left fielder Jordan Pinneri  each scored twice in the victory.
Gannon starter Kennedy DeMatteis (0-1) suffered the loss after allowing six runs (all unearned) on six hits in 3.0 innings (78 pitches).
In Game 2, the Vulcans took advantage of a fielding error in the third to score six runs on six hits. Cal U took a 1-0 lead in the inning on a RBI double by Paige Wilson before freshman third baseman Makayla Munchinski  reached on a walk. The Lady Knights then committed a fielding error that allowed Paige Wilson to score from second. Freshman designated player Britney Wilson  followed with a two-run single before Pinneri and freshman pinch hitter Shayna Postler both collected RBI singles.
Cal U extended the lead to 8-0 in the bottom of the fourth on a two-run double by Young before Gannon made a pitching change. The Lady Knight answered with a pair of runs in the fifth before the Vulcans sealed the run-rule victory with two runs in the bottom of the inning. Brooke Wilson lined a RBI double to right center before Jaquay scored the final run on a wild pitch.
Junior Kelsey Barron  yielded two runs (both earned) on three hits and two walks in 5.0 innings (74 pitches). Lady Knight starter Gabi Vasi was saddled with the loss after surrendering eight runs (three earned) on 11 hits in 3.1 innings (90 pitches).
Paige Wilson finished 3-for-4 with one RBI and two runs scored. She tallied a combined four doubles, three RBI and three runs scored on Tuesday. Young went 2-for-3 with two RBI and one run scored and Brooke Wilson tallied two hits, one RBI and one run scored.
More photos: