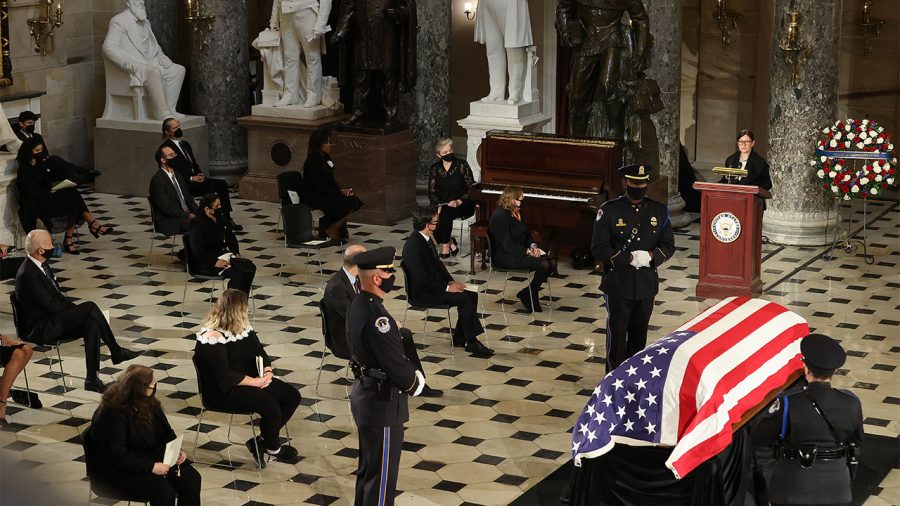 Remembering Ruth Bader Ginsburg
October 7, 2020
Supreme Court Associate Justice Ruth Bader Ginsburg, otherwise known as the "Notorious RBG," passed away on Sept. 18, 2020 at the age of 87 due to pancreatic cancer complications. Ginsburg was a trailblazer in her field, rising from lawyer at a time when it wasn't popular for women to work in law to Supreme Court justice, where she fought discrimination of kinds and was seen as the leader of the liberal bloc of justices.
Ruth Bader Ginsburg was born on Mar. 15, 1933 in Brooklyn, New York. Her father was a furrier and her mother worked in a garment factory. Her mother instilled a love for education, and she flourished in high school and college, where she graduated at the top of her class at Cornell University in 1954. Unfortunately, her mother was diagnosed with cancer and passed away the day before her high school graduation. She also married her husband, Martin, in 1954. Ginsburg put her own education on hold to start a family, having her first child in 1955. Once her husband returned from military service, she enrolled at Harvard Law.
While in law school, her husband was also diagnosed with cancer. Ginsburg went on to keep her sick husband up to date on his studies, kept up with taking care of the family, and keeping up with her own education. While at school, Ginsburg faced gender discrimination at every level, commonly being chastised for "taking a man's place at the school." She was one of nine females in a 500-student class. She became the first female member of the Harvard Law Review before moving to New York City with her husband and transferring to Columbia Law School, where she also served on the law review and graduated in 1959.
Ginsburg continued to face gender-based discrimination as she continued in her legal career. She struggled to find a job until a professor recommended her for a clerkship with U.S. District Judge Edmund L. Palmieri, whom she clerked for two years. She was offered multiple jobs after her clerkship at various law firms, though making less than her male counterparts. She instead chose to join the Columbia Project on International Civil Procedure, where she was able to do research abroad for her book about Swedish Civil Procedure practices. Upon finishing this, she took a job as a professor at Rutgers University Law School in 1963 until she accepted a teaching offer at Columbia in 1972, where she became the first female professor to earn tenure. Ginsburg also directed the Women's Rights Project of the American Civil Liberties Union during the 1970s, where she led the fight against gender discrimination and successfully argued six landmark cases before the U.S. Supreme Court. In 1980, Ginsburg accepted President Jimmy Carter's appointment to the U.S. Court of Appeals for the District of Columbia, where she served for thirteen years.
In 1993, President Bill Clinton nominated Ruth Bader Ginsburg to be an Associate Justice of the U.S. Supreme Court, where she was confirmed by the U.S. Senate by a vote of 96-3. On the Court, she was viewed as the leader of the liberal bloc. She wrote the majority opinion in a handful of landmark cases and wrote stinging dissents in others. In her opinions, she was careful, calculating, and methodical, wanting social change to come from Congress rather than from the courts. She broke from tradition and read her dissent from the bench in case Ledbetter v. Goodyear Tire & Rubber Co. and subsequently worked with President Obama pass the Lilly Ledbetter Fair Pay Act of 2009, the first bill he signed.
Until she passed, Ginsburg maintained a rigorous workout routine with a personal trainer, and for many years could lift more than both Justices Breyer and Kagan. Despite cancer treatments, surgery, or the passing of her husband, Ginsburg never missed a day of oral arguments until the 2018 term. All of this led to her being dubbed, the "Notorious RBG."