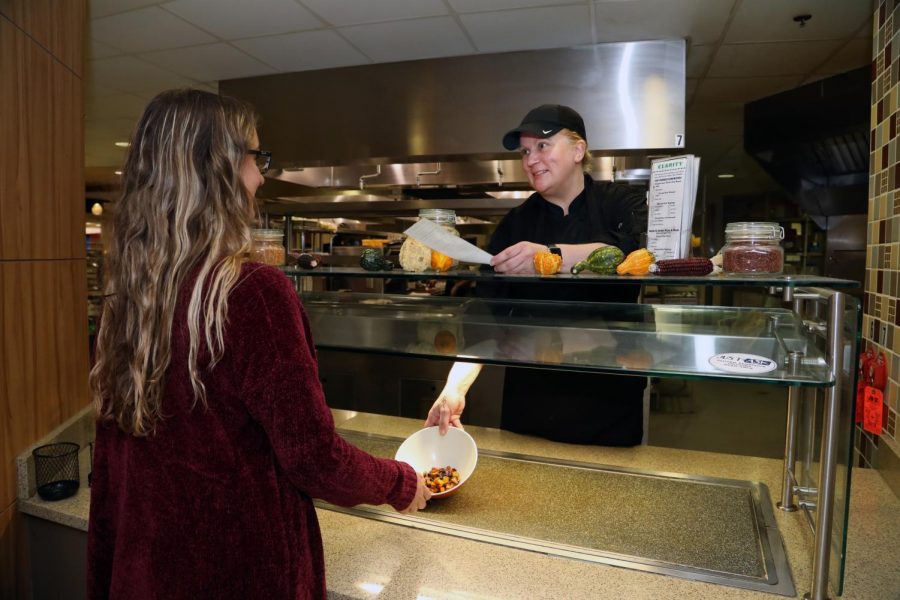 Vegans and Vegetarians Unite!
New "Clarity Station" offers vegan and vegetarian options at Cal U
November 3, 2019
Dining services at California University of Pennsylvania have rolled out brand new meatless and gluten free meal options this semester to cater to students who are vegan, vegetarian, or have other food sensitivities.
At the Gold Rush, Cal U's main dining hall, a new station called Clarity has been added this semester for students with gluten and other food sensitivities. It is a made-to-order station where students can fill out a form to receive gluten free pastas, pizzas, warm entrees, sandwiches, and can also request dairy free cheese. "It's super simple," said Briana Hendriksen, dining service's Marketing Specialist, "You grab an order form, fill it out how you want, and then the chefs that are trained will make it for you."
Next to the new Clarity station is the Vegan and Vegetarian Station that features daily meat free options, and just past the entrance is the Allergy Safe-Zone, which features gluten free breads, cereals, and dairy free milk. In the Natali Food Court, dining services have a brand new food station called Fusion, that features tofu, and Fyre has added a Beyond burger option, which is a plant-based patty. "One of the things to really emphasize is that at any station, they [students] can say to a chef, 'What is in this, and can you make this without a certain item'" said Dan Argento, the Resident Director of dining services. He said that student input is one of the most important things for them to receive.
Many students feel as though there aren't enough vegan, vegetarian, and meatless options for them to choose from. "I think the vegetarian options are okay, but they don't give a large variety of choices like they do for people who eat meat," said Ciera Jones, a junior. Other students wish they had the option to choose no meat substitutes at all. "I like the new options at places like Fyre and Fusion like the tofu and black bean burger but I do with that for some foods there was the option to pick no meat or protein at all," said Jordan McDowell, a senior. Marissa McSheffery, a student, also said that a no meat button at the ordering stations would be nice. "I want hibachi without meat, but I don't want tofu either," McSheffery said.
Midway through last semester, dining services began a new service for student input called Text-A-Manager. This service is an all new, paperless way for students to anonymously get in touch with a dining services manager via their mobile device. "You just text the number that is found on any TV display, poster or napkin holders. Everything is absolutely anonymous. We don't know the students name, we don't know the students phone number, we don't know anything. The only thing we know is their customer number, and their feedback," said Hendriksen. She said it makes responding to students so much easier and quicker.
As for plans to address the comments made by some vegan and vegetarians about receiving a no meat, no protein button, Argento and Hendriksen said they'd like to make that change as soon as possible. If any students have an idea or suggestion they want to see at dining services, Argento and Hendriksen encourage students to use their Text-A-Manager service, or interact with them on social media. "If there's that [student] input, we'll figure out how to make it work," said Argento.