Long Ago and Far Away: A One Act
September 29, 2016
Take a step back from modern day Cal U and venture into New York City inside the Blaney Theatre this weekend. Directed by senior Theatre major, Trevon Kiser, Long Ago and Far Away written by David Ives will take your mind on a journey, leaving you wanting more by the end of the show.
Following mass auditions earlier this month, the cast and crew only had three weeks to prepare for their opening night. Kiser explained what it was like creating a show in such a short time frame, "I've worked professional theatre before where we put on Broadway musicals in three weeks so I guess I was blessed in that sense. But still with being full time students and only having three weeks [rehearsal] is what is pretty stressful but I've been used to the time crunch."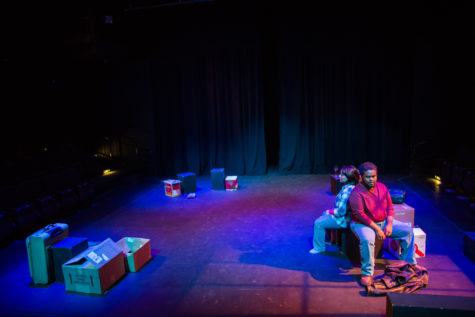 Leading roles, junior Ryan Johnson (Gus) and senior Emily Marmol (Laura) play a young married couple who have differing opinions about the meaning of life and what their roles in life are. Other cast members include sophomores D.J. Miller (Jack) and Sabria Johnson (Landlady).
Performing in her second show at Cal U, Johnson shared what it is like to work with a student director "I really liked this role a lot. It was a little challenging but I loved every minute of it. In the beginning I was scared and nervous but Tre [director] and the cast helped me a lot."
Kiser gives you a little bit of information on what type of show to expect by stating, "I enjoy absurd theatre and theatre of the absurd. It has heavy tones on existentialism and I guess I'm kind of hitting a quarter life crisis but the whole thing of existence and philosophical questions are pretty heavy on my mind, with the whole question of life. I thought it would be nice, especially around other scholars, to present something that people would be able to think about questions like that."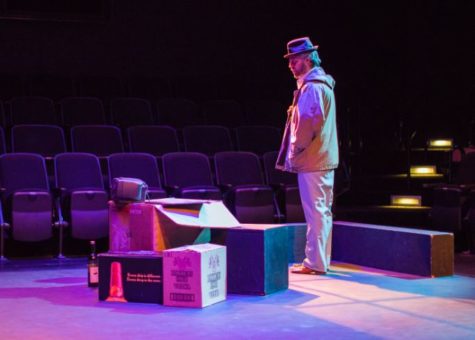 Following the theatre department preview, freshman psychology major Cynthia Obiekezie gave her thoughts on the show "I thought the play was very intriguing. The actors were amazing and I felt like I was in an episode of The Twilight Zone the whole time."
"An Evening of Creativity" will be running from Thursday, September 29 until Saturday, October 1. Show times on Thursday and Friday are at 7:00pm with two show times on Saturday, 2:00pm and 7:00pm. Tickets are $0.50 with a valid CalCard and $12.00 for adults, seniors and children.