Chick-Fil-A Express Sparks New Excitement
September 23, 2016
The excitement and energy were high in preparation for the grand opening of the Chick-Fil-A Express this past Wednesday. The line full of hungry students started forming before the store even opened, and by 11 a.m. it flowed down the hallway with no chance of subsiding until stomachs were full. Chick- Fil-A Express has been highly anticipated since the news was announced back in June, after students showed interest in having a fast food option added to the menu.
Junior Bryan Moore has become accustomed to the food options and change that has come to the Gold Rush and Food Court since he started at Cal U three years ago.
"Everything in terms of the food court has changed a lot over the years and has been the same types of food," Moore said. "If this [Chick-Fil-A] is consistent I know it will be a good place to eat."
In order to keep up the excitement, recent California University of Pennsylvania graduate, Hannah Wieszczyk, worked with other students as well as the Chick-Fil-A Support office to devise a plan for ensuring that the opening was worth the wait.
"It has been a lot of behind-the-scenes planning, trying to get more social media traffic." Wieszczyk mentioned. "With the new brand we've been able to use that to help gain our social media engagement and get students excited."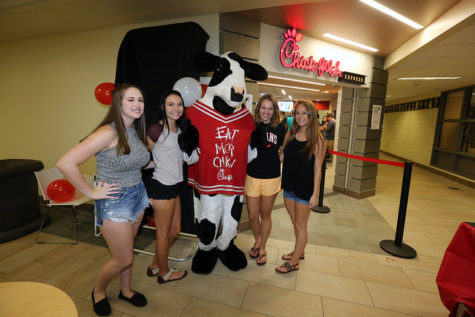 As a marketing technique, giveaways including Chick-Fil-A's signature lemonade samples and mini stuffed cows with the slogan "Eat Mor Chikin" were passed out to those waiting in line.
DeMeishia Charleston, Chick-Fil-A support office representative, who has worked with California University of Pennsylvania and Wieszczyk, volunteered her time to help with the grand opening and their marketing strategies.
"We have some activations that we share with our partners that open up Chick-Fil-A licensing locations – like the photo booth, and the mascot," Charleston stated. "The Cal U Mascot is actually a rarity at our licensing locations, so Cal U is very blessed to have the mascot here."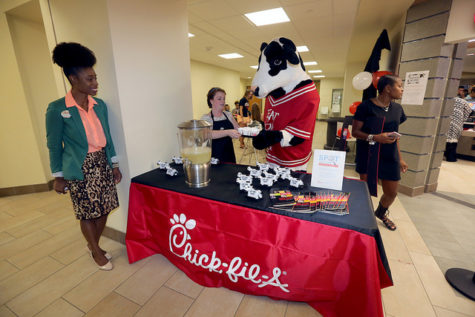 Marketing efforts were not lost seeing as students gathered to take pictures with Cal U's very own Chick-Fil-A Cow mascot and utilize the photo booth while they waited in line to order their food.
Chick-Fil-A Express is now open to students as well as the general public, Monday through Thursday from 11 to 7 p.m. and charges meals through dine dollars, shop dollars and credit.