LGBT History Month Brings Speaker to Vulcan Theatre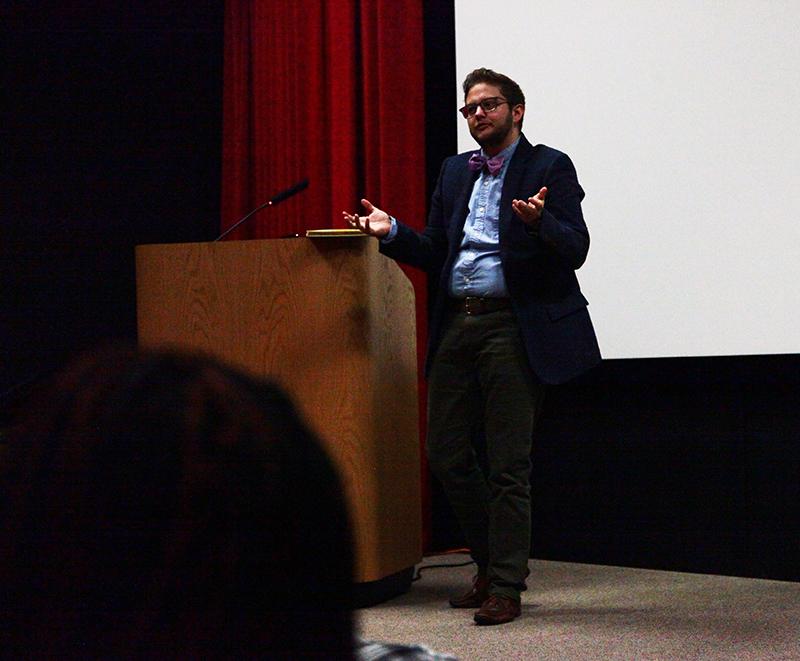 By Lauren Griffith, Entertainment Editor
October 8, 2015
He is in a tweed suit jacket with elbow patches, and wears dark rimmed glasses. He has a soft air about him, and speaks lowly with a deep laugh. In the moments before he speaks on the stage in the Vulcan Theatre, he talks with students in the crowd, and with Sheleta Webb, the director of university LGBTQA initiatives at California University of Pennsylvania.
     He is Alex Patchin McNeill, the executive director for More Life Presbyterians in D.C., and openly transgender. McNeill is the first of three speakers that will come to Cal U before October ends to talk about rights to respect…inclusivity for all, which is the theme for LGBT History Month on campus.
    The speech, held on Oct. 6 at 11 a.m., had a small, informal setting. With 20 students in the crowd, McNeill talked in the middle of the stage instead of behind the podium and opted not to use the microphone. During McNeill's speech, there were heads nodding and audible affirmations, as he talked of spirituality and faith in the LGBT community.
      "We need to reflect where we have been in the movement, and where we are going next," McNeill said.
   McNeill dated the movement back to the Stonewall riots in 1969, and gave a brief summary of how religion fit into all of the trials, rulings, acts, and laws affecting the LGBT community.  McNeill, who came from a family of Presbyterians, was raised in several different Presbyterian churches.
      "The churches I went to didn't talk negatively about LGBT, but there was a lot of silence," said McNeill.
    When McNeill began his freshman year at University of North Carolina, he identified as the sex and gender he was born as, which was female. Just before his classes started, he told his parents that he was a lesbian, and that he wanted to go to seminary.
    After he received his undergraduate degree, we went on to study at Harvard Divinity School. At this time, it was illegal for openly gay person to be ordained as minister. Two years after he completed studying at the interfaith university, a law was passed that overruled the earlier decision. McNeill could now legally become a minister, yet there was still something that held him back.
      "I could no longer pretend I was comfortable in my skin anymore. I stopped going to church. I could tell that I put a veil between myself and God," McNeill said. "I was not at all living the way I was supposed to."
      At 26, McNeill started identifying as transgender. He told his parents about his decision, his name change, and the male pronouns that he preferred. McNeill is now happily married.
     At More Life Presbyterians, McNeill teaches a curriculum focusing on building an inclusive church. Building relationships and talking about available resources are two of the most important aspects, according to him.
    Six years after he began identifying as transgender, same sex marriage was legalized.  While McNeill celebrated the long forthcoming victory, he knew that there was still more to work to do and that the fight wasn't over.
     "The future is bright. We can only get there by remembering the past. Each of us has an ability as LGBT or as a supporter to say our stories matter and are intertwined in this long history," McNeill said.