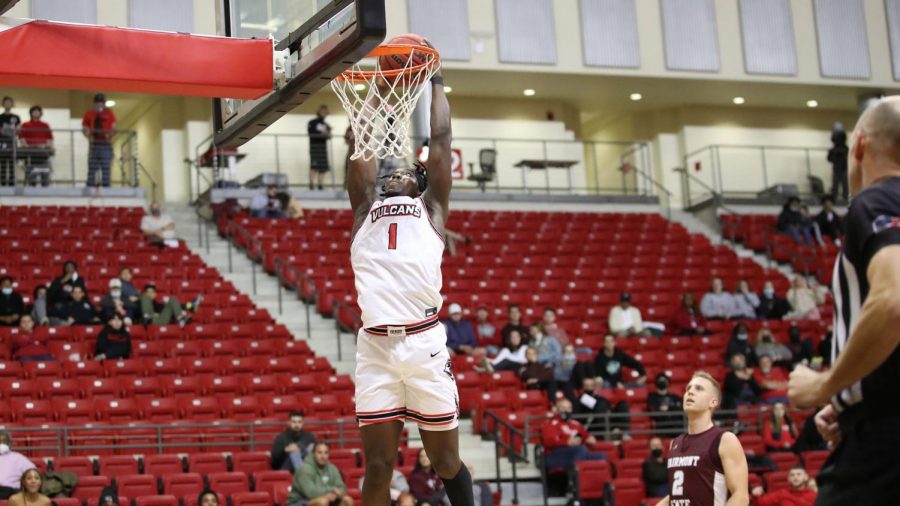 Jeff Helsel
CALIFORNIA (Nov. 18) – Behind a 35-point performance from sophomore Philip Alston (Columbus, Ohio/Westerville North), the California University of Pennsylvania men's basketball team held a two-possession lead with under two minutes left on Thursday night before suffering a 95-92 loss against preseason No. 22 Fairmont State at the Convocation Center in non-conference action.
With the loss, the Vulcans drop to 3-1 overall while playing three Mountain East Conference (MEC) programs that posted a combined 38-13 record (.745 wining percentage) in a shortened 2021 season. Meanwhile, the Fighting Falcons improve to 3-0 this season after winning the 2021 MEC Tournament and making a third-consecutive appearance in the NCAA Tournament.
Alston finished with 35 points on 16-of-29 shooting and a career-high 16 rebounds (four offensive) for a consecutive double-double. In the first half, he scored 21 points after going 10-of-17 from the floor while playing 18 minutes. Alston has posted a combined 72 points on 32-of-50 shooting (64.0 percent) and 26 rebounds over the last two games. The Ohio native is the first Cal U player to record back-to-back 30-point games in over 25 years.
Senior Brent Pegram (Upper Marlboro, Md./Dr. Henry A. Wise Jr.) finished with 20 points, eight rebounds, nine assists and four steals while playing 39 minutes. Freshman forward Keith Palek III (Woodbine, N.J./St. Augustine Prep) totaled 12 points, five rebounds (three offensive) and four assists, while senior Preston Boswell (New Martinsville, W.Va./Magnolia) collected 11 points, eight rebounds (six offensive) and four assists on Thursday. Freshman Bryson Lucas (Clarksburg, W.Va./Robert C. Byrd) added nine points, four rebounds and two assists off the bench in the loss.
Cal U held an 88-84 lead with 1:44 left to play following a layup by Boswell before Fairmont State countered with a basket on the ensuing possession. The Vulcans then committed a turnover – their first in nearly six minutes – that setup a go-ahead, three-pointer by the Fighting Falcons with 50 seconds remaining, 89-88. The teams then traded free-throws with Fairmont State holding a 93-89 lead with eight seconds in regulation. Pegram then buried a deep three-pointer to cut the deficit to 93-92 before the Fighting Falcons sealed the victory with a pair of last-second free-throws.
The Vulcans scored the initial two baskets of the game before the Fighting Falcons countered with a 10-2 run to take a 10-6 lead with 16:23 left in the first half. Cal U then reclaimed the lead at 15-14 on a three-pointer by freshman DJ Slaughter (Manassas, Va./Saint John Paul The Great Catholic) before Fairmont State later scored seven of 10 points to hold a 23-20 lead at the 10:38-mark. The Fighting Falcons eventually held a 37-32 lead before Alston responded with back-to-back dunks, as the Vulcans later tied the score at 41-41 with 3:06 left in the first half. Fairmont State closed the half with a three-pointer on its final possession to take a 49-47 lead at the break.
Alston scored six-straight points early in the second half to give Cal U a 53-50 lead before Fairmont State reclaimed the lead at 59-57 with 13:43 remaining. The Vulcans later countered with a 12-0 run behind a combined 10 points from Palek and Alston over two-plus minutes to take a 71-62 lead at the 10:18-mark. The Fighting Falcons responded with a 10-4 rally to trim the deficit to 75-72 with 5:18 left to play. The teams then traded baskets until the layup by Boswell at the 1:44-mark.
The Vulcans finished the game shooting 46.8 percent (37-of-79) from the floor and converted 61.1 percent (11-of-18) from the free-throw line. Meanwhile, the Fighting Falcons shot at a 51.5 clip (35-of-68) and made 11-of-28 (39.3 percent) from beyond the arc. Cal U held a 48-35 rebounding advantage behind 19 offensive rebounds that led to 20 second-chance points and scored 52 points inside the paint.
Fairmont State senior Briggs Parris scored a team-high 27 points on 9-of-11 shooting, including four-of-six from beyond the arc, while playing only 24 minutes. Classmate Isaiah Sanders, who was the 2021 MEC Tournament MVP, totaled 26 points on 10-of-19 from the field, while junior Zyon Dobbs added 23 points behind five three-pointers and seven rebounds.
Cal U returns to action on Tuesday, Nov. 23, when it travels to face preseason PSAC East-favorite Shippensburg in non-conference play at 8 p.m.