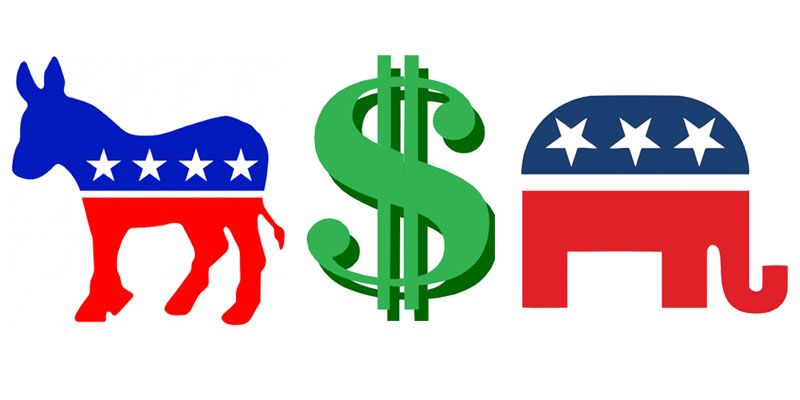 Did you know that candidates use survey systems that are sometimes funded by "dark money"? That was one of the points made during this year by the recent "Constitution Day" panel event Sept. 17 in Eberly Hall 110.
    Organized by Melanie Blumberg, a political science professor at California University of Pennsylvania, this year's event covered speeches from four speakers, with the special guest speaker being Patrick Brier, a Scranton-area attorney. Around 60 students and members of the Cal U community attended the event. Other Cal U speakers included Craig Smith, Sheri Boyle, and moderator Emily Sweitzer. Smith teaches in the history department, and Boyle and Sweitzer teach in the department of social work.
    Smith, who specializes in the study of judges as political figures, questioned some ethical decisions made by a few of the Pa. State Supreme justices. He cited the three vacancies left from judges who were involved in pornography scandals, campaign fraud, and other abuses of power. He went on to cite the state's record breaking amount of money spent on campaigns for justices.
         The department of social work's speeches included Sheri Boyle. Her work was titled "What comes first, the chicken or the egg"? Boyle explained that prior to being a social worker, she used to work for Nancy Pelosi. "Unions are very powerful in terms of their voting ability," Boyle said. Boyle defended Pelosi not giving money to some large and famous unions at the time (late 1980s, according to Boyle) just in order to buy their vote.
  Instead, Pelosi chose not to give certain unions money and make the ethical choice of not buying a socioeconomic groups' vote, according to Boyle.
The other social work professor who spoke was Pamela Twiss. Twiss discussed "dark money," or contributing to social welfare organizations without the identity of the donor being revealed. In other words, a social organization that gets its money from non-social means.
      Twiss explained the dramatic increase in dark money, which started off as a few millions several years ago, and rose to a high of $300 million throughout the 2012 election campaigns. Twiss found this process "dirty, unethical, and wrong." However, although she found it unethical, she said nothing about the dark money schemes being illegal.
  "Our democracy needs to understand that the candidates and the organizations who raise money for them [known as PACs] are willing to do whatever they need to do to get the funds raised," she said.
Finally, guest speaker Patrick Brier spoke. Brier also pointed out the extensive use of dark money similar to Twiss, but also brought up his own ideas.
Being a practicing attorney, Brier's presentation consisted of the most legal facts. "The state of Pennsylvania has no contribution limit," Brier said. "As a result, society has individuals giving alarming amounts of money and in a way buying the politicians we currently have for the [2016] election."
Because of the extreme cost of television advertising (which can run up to $1 million per televised week at its peak), politicians sometimes resort to going through with the dark money fund-seeking idea.
Brier explained that for the 2016 election, the Koch brothers have encouraged more than 400 people to give over $1 million to a candidate. Again, repeating the idea of no "fund ceiling," he said scholar estimates there will be more than $890 million flowing in to support the presidential candidates altogether. "There needs to be some sort of limit, but there have been no legislation organized in Washington to stop it," he said.
Part time student Randy Barli said he enjoyed attending the event. "I think the most educational part was hearing about the 'dark money,'" Barli said. "It really was very informative and I am looking forward to what Cal will have for next year's panel."