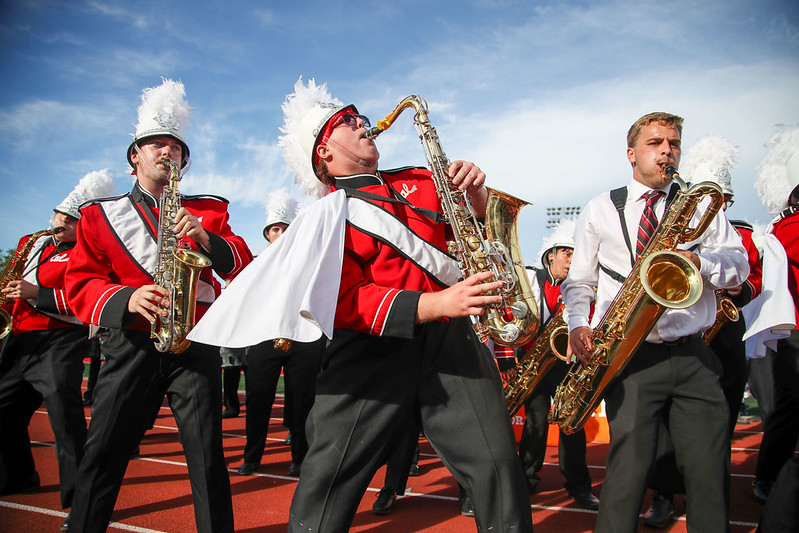 Jeff Helsel
The Cal U Marching Band joins other college bands to show off their music in post quarantine in a grand exhibition.
Lights blare from above, the fake grass cushions glimmering black dress shoes, still bodies sit motionless, curious on their next move. They march forward onto the football field and everyone moves into their choreographed positions. Staring forward, at attention, the crowd leaning in, waiting, wanting to hear the first note. Upon the band director's command, instruments are raised, they take that first step forward, and the show begins.
That is what the 20 band ensembles felt Sunday October 3 on J B Crum Stadium at Allentown Pennsylvania for the Collegiate Marching Band Festival.
 After some varying setbacks in preparation from COVID, the Cal U Band once again participated as well in the lineup only just finishing their Homecoming performance the day prior.
The Collegiate Marching Band Festival first started in 1996 and has been going strong annually for the next 25 years. While Cal U hasn't always played at this event since it's invite only, they've gone to cheer on the other college bands since its inception. However, they were invited once again to take part in the lineup.
No competition was held and no awards were given since the Festival was an exhibition show, therefore the college bands performed solely to show their music capability.
"It's very loud, and crowded, no tension, it was fun and friendly," said Sarah Camp, junior, head clarinetist for the Cal U Band for three years. "I think it was one of the best performances we had. We all tend to get along. Allentown was special."
 The marching band had been on hiatus since the pandemic started until the fall semester of 2021 started.
 Marching band veteran Jessie Halapia has seen the before and after effects the pandemic has had on the band. Halapia has been a student at Cal U since 2017 working for and earned her Bachelor's Degree in Psychology, with a minor in music in December 2020. She's been working at her Master's in Psychology ever since.
Halapia is a graduate assistant for the University Band. Her main responsibility is to assist in all band activities as well as to report to the band director. Some of her responsibilities range from taking attendance at every practice to preparing meals for the band during football games. Halapia said she spent the last two weeks getting the band ready for the Collegiate Festival, contacting "restaurants, AVI, and alumni."
  "The pandemic definitely impacted our numbers with more people staying online or being nervous about finally getting a first in person semester and not wanting to get overwhelmed with academics," said Halapia. "Sadly, this season we only have football games. We typically do High School Band Festivals, but with COVID traveling restrictions it gets tough."
 The Cal U Band performed the same musical routine as they had so far this football season. The same halftime field show they've rehearsed since August 11. They've practiced three hours every Monday and Wednesday since the fall semester began.
 The standard beginning for every season is first spent in Gallagher, playing the music to perfect it as best they could and then, they'd take it to the field. The marching band had eight pieces of music to play in their halftime show this year. This year's music theme is "Around the World in 11 Minutes." Cal U band member Anthony Ohler has a trumpet solo as well as a trombone solo from Carl Anderson.
This was the template most high school and college bands use, until COVID happened. Camp said, we just have to go through more steps to get to the same end. Among these steps were adhering to social distancing from a large ensemble of musicians and having fewer musicians to work with, but also, they had to make up for a lack of time.
"Practices outside aren't difficult since we don't have to wear masks, but our music rehearsals were significantly reduced this season. Our music rehearsals take place inside Gallagher Hall and it gets difficult to accommodate for space and it's hard to get good sound with instrument masks. Weather also has impacted our season. Because we wanted to avoid as many indoor rehearsals as possible, we were constantly having to put instruments away at the field due to rain which lessened music rehearsal even more," Halapia said.
However, much like when dealing with any situation or cuts in the schedule, the band would persevere and make up for it.
 "Despite our size, we put out a lot of sound," said Camp.
 And the Cal U Band displayed their support once their instruments were put away and they could sit in the bleachers like the rest of the crowd.
 "Every band was amazing," Halapia said. "I really enjoyed the other performances. I was really looking forward to Shippensburg University. West Chester University had an amazing Euphonium solo. The one band I always look forward to, the University of Massachusetts, sadly was not in attendance this year."
The Festival started at 12 p.m. and lasted until 6 p.m. Over 1500 spectators were estimated in attendance, despite the seats being filled to only a fraction of their full capacity. The crowd was set apart from who the band has performed for in the past as Camp said, the audience was more music oriented than the people who were at the football games.
Many of the musicians in the band haven't professionally played for a year. That's time the students who graduated will never get back and memories they'll never get to create. However, those who are back and still have time to make memories, can make the most of it as they can, even if they can't carry an instrument anymore.
It felt very exciting," said Halapia, "I got to miss my last marching season with the Cal U Band as an undergrad student in the Fall of 2020, and while I'm not marching this year, I was very excited to come back as the GA for one final season before finishing my master's degree.