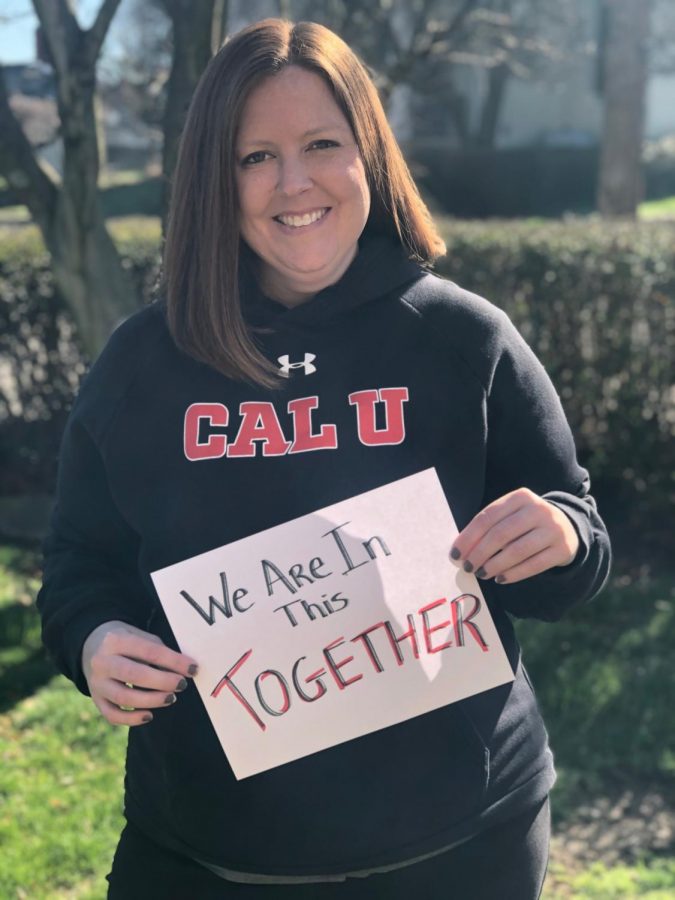 Eron McMillen
Cal U's Student Affairs and Student Association Inc. staff collaborated from remote locations, many working from home, to create a video offering "signs of strength" for students who have transitioned to online learning this spring semester due to the coronavirus pandemic.
"If you have seen the 'signs of strength' various outlets have posted on social media, we would like to create one for student affairs to share with our students," said Becky McMillen, executive director for University Conference Services, in an email message sent to more than 50 division staffers.
"We thought this might be a way to connect and encourage students in this transition," McMillen said.
The University transitioned to remote operations in March 2020 with most staff members working from home in an effort to curtail the potential spread of the novel coronavirus.
How was it possible to gather the needed visuals from more than 50 staff members when nearly all are required to work from home during the campus shutdown?
Simple.
Each staff member was assigned the task of appearing in a 'selfie' photo, preferably wearing Cal U apparel, with a sign displaying a specific message of encouragement to Cal U students. The photos were then gathered via email attachments and edited together into a video sequence. The final edited video was uploaded and shared on various social media outlets affiliated with Cal U and Student Affairs.
"It is fabulous and it is a true reflection of our Student Affairs family," said Nancy Pinardi, vice president for Student Affairs and Dean of Students. "I am proud to be a part of it."
In addition to McMillen's effort to coordinate the project within the division, others credited in the production include: Lindsay Mongell, scriptwriter, Gary Smith, video editor. Gloria Minutello created Photoshop photos of the Vulcans mascot Blaze, Rendie Settles collected the photos,  and Pam DelVerne served as overall media team project coordinator and organized the effort to share the video via social media outlets such as Facebook, Twitter and Instagram.
"It was a division effort and we really appreciate everyone's effort," said McMillen.
Social media postings of the video included the tagline: "Student Affairs staff offers signs of strength for our students. Stay Well. Stay Strong. Stay Connected. #CalUTogether."
Here's a breakdown of the script and the staff members in order of appearance:
During these – Diane Hasbrouck
uncertain – Justin Schiefelbein
times, – Donna Hoak
it might feel – Gloria Minutello
Scary and – Micah Reed
Lonely- Lisa Hartley
We want you – Jeff Helsel
to know – Leigh Ann Lincoln
that even though – Blaze, Vulcans Mascot
we might – John Massalla
be apart, – Dawn Bellotti
we are in this together.– Becky McMillen
The Student Affairs division – Jared Shiner
at Cal U – Rachel Michaels
wants you – Cheryl Golembiewski
to know – Donna George
that we miss you – Missy Dunn
and we look forward – Tom Hasbrouck
to having – Blaze Vulcan Mascot
you back – Sheleta Camarda-Webb
to campus – Paul Fazio
Before long. – Diane Tomi
Until we – Keith Skirpan
Are together – Becky Barnhart
Again – Nancy Skobel
We are here – Terry Carnathan
To support you – Doris Wadsworth
And make – Nicole Arthur
this transition – Rendie Settles
As easy – Joy Helsel
As possible – Kim Cupplo
for you.- Cheryl Lotti
We are still – Cody Dietz
Available – Deb Custer
To assist you, so – Dawn Moeller
Please send – Christa Grillo
us an email at – Jamison Roth
[email protected] – Tammy Clark
And we will – Quiana Golphin
be happy – Lindsay Mongell
to help! – Gary Smith
And until – Cathie Czernecki
We are – Vulcan statue
Together – Jayna Bonfini
Again, – Tina Pierce
We wish you – Tony Steve
Happiness – Pam DelVerne
And courage – Debbie Anderson
And we will – Jim Pflugh
Be together – Brenda Depaoli
Again – Tim Susick
Before we – Larry Sebek
Know it! – Nancy Pinardi