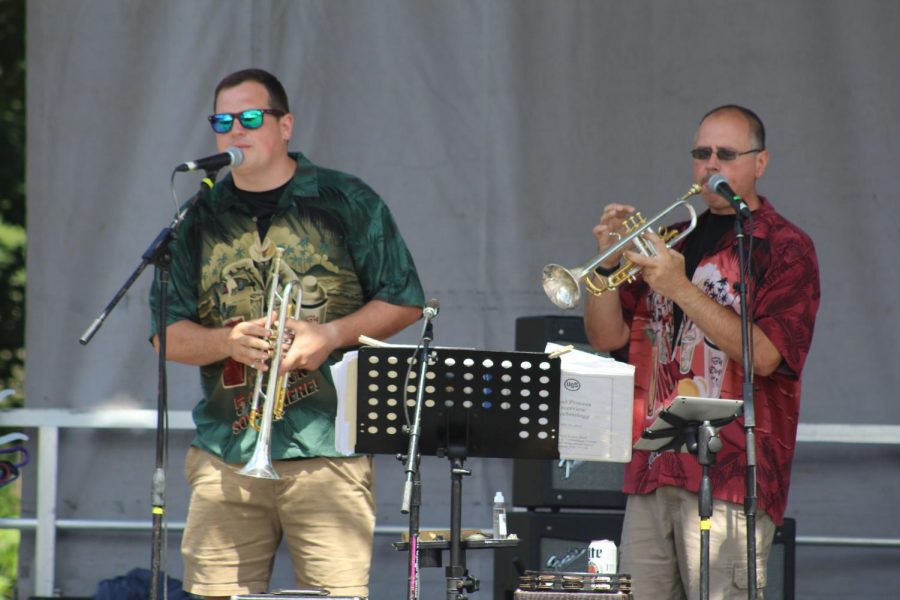 Matt Petras
Radonna Butler lives a stone's throw away from the California Riverfest, so she always end up attending. She loves watching the bands and appreciates the festival.
"We're a relatively small group of people," Butler said. "We consist of the students from California University, but during the summer months, there's nobody here but us residents, and there's very, very few of us, so it's nice for everyone to come together."
The California Riverfest, an annual festival packed with vendors, live music and activities for children, took to the borough this weekend, bigger than ever before.
This year's festival boasted more than 50 food and craft vendors, offering BBQ, hot dogs, funnel cakes, pierogies, jewelry, photography and much more last Saturday and Sunday. At the start of the day on Saturday, a firemen's parade, complete with fire trucks, tankers and a marching band, went down the street, throwing candy to kids.
Once the festival began in earnest, folks took to the vendors, children played in a bounce house with a slide attached to it, mascots roamed around, posing for pictures with children, and bands took to the stage.
The first band of the weekend, Mon Valley Push, played an eclectic selection of music, covering tunes like "Take Me Home, Country Roads" and "All About that Bass." California's mayor, Frank Stetar, books shows, plays the trumpet, sings and arranges the music for the band.
"We try to mix it up for just about any audience we play for," Stetar said. "If we're playing for an older crowd, we'll do more traditional music, if we're playing for younger people, then we'll try to do more crossover things. Try to keep everyone interested."
The band, now made of seven people, has been playing the Riverfest for about seven or eight years, he said.
"It's a great time," he said. "It's just nice for people to be able to get together and have some entertainment come down and just be able to hang out with each other and have fun."
Several of the folks manning vendor booths found good business at the festival. Debbie Marshall, who has been crocheting crafts for about 17 years now, sold a bevy of crafts at the festival, including toilet paper and fidget spinner covers as well as dolls depicting horror movie villains like Jason Voorhees and Pennywise the Clown.
She sells at events like this as well as on her Facebook page, she said. Her mother taught her how to crochet.
"She started me when I was little, and I've been crocheting ever since," she said.
Bethany Tobias, a 1998 California University of Pennsylvania psychology graduate and current CCAC nursing student, showed off her huge portraits of celebrities, made entirely of pennies. Some pennies are darker, worn down by age, which she pairs with crisper, brighter-colored ones to create these images.
One day, she saw floor tiles made from pennies online, so she gave it a shot herself and enjoyed it.
"I just wanted to keep doing people's faces, and we didn't have any more floor space, so then I started doing this," she said.
She buys pennies from people and also collects them as donations. At the festival, she had a container for penny donations, which had written on it that she'd like folks to "give me your two cents!"
In addition to growing in size, the Riverfest also had different offerings this year. Joe Grodz, a member of the Rotary Club of California Pennsylvania's Sunset Group, put together the festival's first car cruise, which took place on Sunday.
"They thought it would be great to try to bring a new crowd in, another wave of people," he said. "It was something a little bit different to help this expand even bigger than what it has been."
He enjoyed the festival this year and said it's great for the community of California.
"Glad to see the community come out," he said. "Love to see the community come together and grow and support each other in any way."
This story was made possible by a partnership between the Mon Valley Independent and the Cal Times of California University of Pennsylvania, funded by a grant from Bridge Pittsburgh.