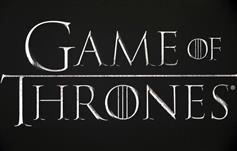 Game of Thronesis an American fantasy drama television series created by David Benioff and D. B. Weiss for HBO. The series follows George R. R. Martin's best-selling book series "A Song of Fire and Ice" as HBO sinks its considerable storytelling teeth into the medieval fantasy epic.
Game of Thronesis the depiction of two powerful families—kings and queens, knights and renegades, liars and honest men—playing a deadly game for control of the Seven Kingdoms of Westeros, and to sit atop the Iron Throne. Martin is credited as a co-executive producer and one of the writers for the series, whose shooting locations include Northern Ireland, Malta, Croatia, Spain, Canada, Iceland, Morocco, Scotland, and the United States. The series first premiered in April 2011. Fans of the show are saddened that the newly released season is the final season to be aired.
The eighth and final season of Game of Thronespremiered on April 14, 2019. It is a bittersweet moment for fans overall. Fans are happy that the show returned to their tv screens, but sad that it is the final season. Also, this eighth season is one of the shortest seasons ever throughout the entire series. The final episode is planned to air next month on May 19. Most seasons lasted for either a month-and-a-half or two months, while this last season is only on air for about a month. Unlike the first six seasons that each had ten episodes and the seventh that had seven episodes, the eighth season only has six episodes.
Like the previous season, it largely consists of original content not found in George R. R. Martin's "A Song of Fire and Ice" series and adapts material Martin revealed to the showrunners about the upcoming novels in the series, "The Winds of Winter" and "A Dream of Spring." The cast for the show consists of 22 main characters, 16 recurring guest characters, and hundreds of extras.
Co-creators David Benioff and D. B. Weiss have said that seasons 7 and 8 would likely comprise fewer episodes, stating that after season 6, they were "down to our final 13 episodes after this season. We're heading into the final lap."Benioff and Weiss stated that they were unable to produce 10 episodes in the series'usual 12 to 14-month timeframe, as Weiss explained, "It's crossing out of a television schedule into more of a mid-range movie schedule." HBO confirmed in July 2016, that the seventh season would consist of seven episodes and would premiere later than usual in mid-2017 because of the later filming schedule.Benioff and Weiss later confirmed that the eighth season would consist of six episodes and would premiere later than usual for the same reason.
Benioff and Weiss said about the end of the series: "From the beginning we've wanted to tell a 70-hour movie. It will turn out to be a 73-hour movie, but it's stayed relatively the same of having the beginning, middle and now we're coming to the end. It would have been really tough if we lost any core cast members along the way, I'm very happy we've kept everyone and we get to finish it the way we want to." The first two episodes are, respectively, 54 and 58 minutes long, while the final four episodes of the series are all more than an hour in length—episode three is 82 minutes (making it the longest episode of the series), episode four is 78 minutes and the last two are each 80 minutes.A two-hour documentary, Game of Thrones: The Last Watch, which documents the making of season 8, is due to air on May 26, oneweek after the series finale.
So, it is like the old saying goes, "all good things must come to an end." That is the fact for all fans of Game of Thrones. Fans will be saddened with their favorite medieval television series not returning for any more seasons, but will definitely treasure this last season. Game of Thronesappears on HBO every Sunday at 8:00PM, so be sure to tune in to soak up every fantastical minute of it.