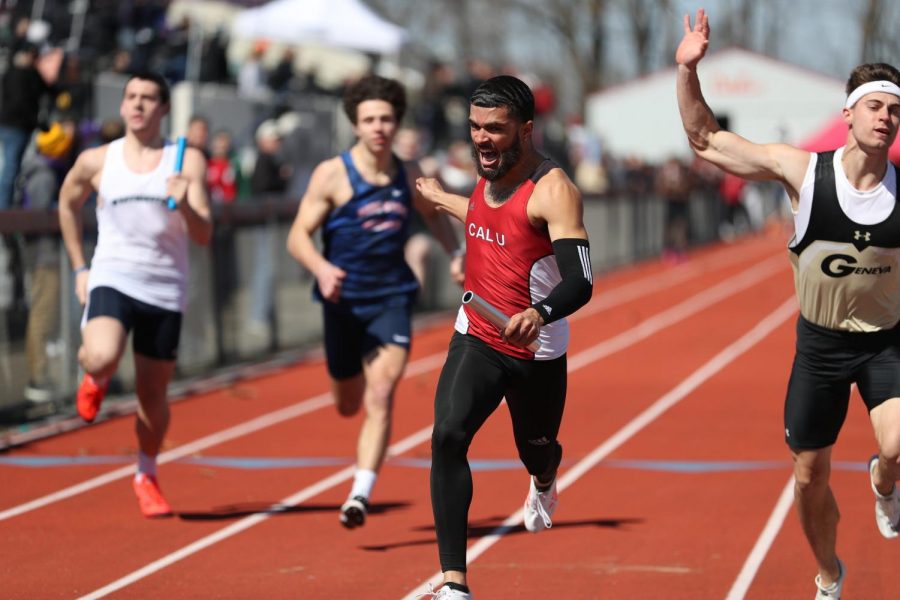 From racing at a local Boys and Girls club, to the National Collegiate Athletic Association (NCAA) Championships, Jae'len Means found a love and passion for track and field at a young age.
Means started his athletic path with baseball, basketball, and football, but discovered his skill in track when he was just 11 years old.
"I played basketball and baseball all the way up until 10th grade, but then I decided to focus on track," Means said. "Baseball and track are in the same season, but I did both of them at the same time for probably six years. I would go from a track meet to a game, to the game to a track meet. It was crazy."
Means jumped onto the track with the 100 and 200 meter dash, and in his second year, he went to nationals.
"When I was 12, I went to the junior olympic nationals and that was the first year that I said to myself, 'maybe this is something that I can actually do, and go somewhere with'," Means said. "The best year that I had at that event was in 2012 when I turned 16. I placed fourth in the 200, sixth in the 100, and we got third in the 4×100 meter relay. That event was huge too. They stretched it out over a week, so that can tell you how many people are actually there."
Once Means found a passion for running, the success followed. In 2013, Means was a part of a 4×100 meter relay team that won the AAA Pennsylvania Interscholastic Athletic Association (PIAA) Championship. The team comprised of Julius Rivera, Montae Nicholson and Cameron Gray all continued their track careers at the collegiate level in some capacity. Nicholson's path led him to the NFL, where he was picked number 123 overall by the Washington Redskins.
"We all knew that Mont [Nicholson] was going to do something in either track or football. We knew he was going to the league," Means said. "For Julius and Cam [Gray], Cam sort of veered away from track, but eventually came back to it. Julius has been at it since I can remember. Him and I have been racing each other since we were 12 or 13. But, those are my guys."
Rivera and Gray continued their careers at Indiana University of Pennsylvania (IUP) where Means connected with them once again.
"Whenever I get the chance to race against Julius, I always bring it," Means said. "That's just how it's been for probably ten years now. Me and him have been going back and forth for so long, but he is definitely the person that I like to run against."
Means' path to California University of Pennsylvania is a story that he called "interesting". In his senior year of high school, a hamstring injury halted his success that season, and his shot of continuing that success at the highest level of collegiate athletics.
"After I tore my hamstring, a lot of the recruitment calls stopped," Means said. "It was one of those 'what can you do for me now' things [for the universities recruiting him] and at that point, I couldn't do anything for them. Big schools really are not into nursing you back to health. They want someone who is going to come in, place at conference, and get everything done."
In late May of Means' college search, he reached out to the head coach of the track team, Daniel Caulfield, in order to pursue a track career at the collegiate level.
"I just said, 'Hey, I want to run for your team. I'm injured right now, so there's not that much I can do, but I've done this, this and this'," Means said. "I ended up redshirting my freshman season, and I rested that entire year pretty much. I ran a few races on my own, but nothing serious. After that year I got healthy, and from there on, it was history."
Since then, Means attacks each meet with a chip on his shoulder, and "bridges the gap" between division I and division II athletics by competing hard at whatever obstacle he is faced with.
"With track, you run against everybody," Means said. "You run against athletes from DI, all the way to DIII. There's no set meets other than conferences or nationals that you actually go against your own people. So I like to show people that being D2 isn't bad. You can be really good and be on their level but you don't have to go to that big school."
Means has struck gold in the Pennsylvania State Athletic Conference (PSAC) Championships multiple times in his career. To be more specific, he has 26 top three finishes at conference championships. Means also has qualified for nationals in three of his four seasons competing.
"The success at those events just primes you to run against anybody," Means said. "PSAC's are always fun. It's the best meet on my schedule. People think that nationals are the best, but to me it's not. Nationals are more business rather than fun. Having your family, and everybody else being at PSAC's is huge."
Since the beginning, Means found his niche in the sport because of a passion and enjoyment with the competition he faces. Being surrounded by successful people has pushed Means to great heights, and given him motivation to achieve even more.
"Seeing what they do [former teammates], and how Mont went to the league, starting as a rookie, was just as huge for me. I was pushing along too. Seeing him do it made me think that I had to do something here."