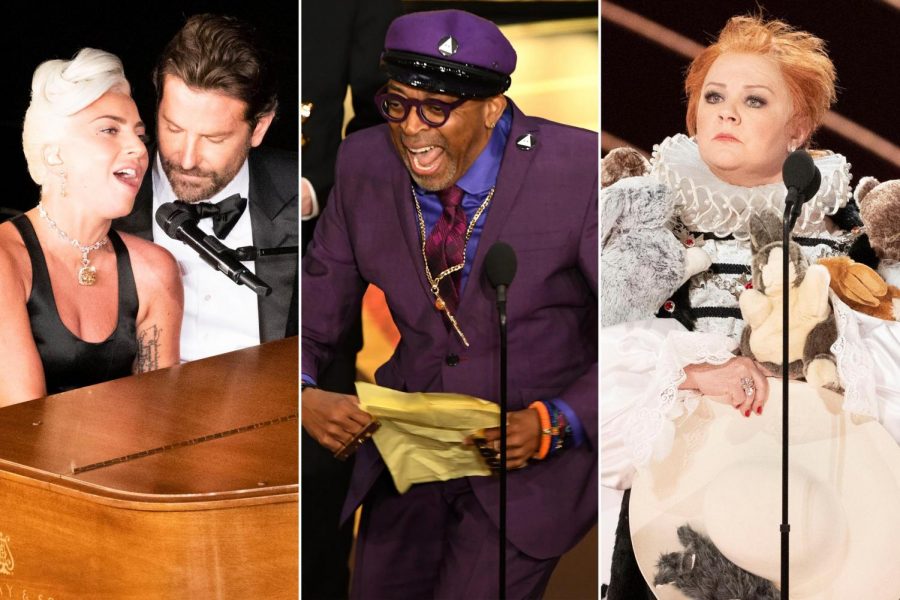 The 91st annual Academy Awards were once again held at the Dolby Theatre in Los Angeles, California, on Sunday February 24, 2019. This year's Oscars was one for the record books. Many surprises kept emerging as the ceremony continued on throughout the night. Let's take a moment to recap over the tremendous outfits, wins, appearances, and performances at the 2019 Academy Awards.
   First off, the biggest surprise this year at the Oscars was there was no host. For probably the first time since its inception, there was no host to host this year's Academy Awards. Comedian Kevin Hart was originally selected to be the host but dropped out a few days later after old homophobic tweets and comments from old stand-up routines resurfaced following his confirmation to host the award ceremony. Rumors went around that Hart would possibly make a U-turn about his decision of dropping out as host, but that obviously did not happen. Instead this year, the celebrities who presented awards acted as the host, but only for the few minutes they were on stage. 
   There were many wonderous moments that occurred this year at the 2019 Oscars. Some celebrities gave amazing speeches, like famed tennis player Serena Williams, stars spoke fast to thank everyone in their acceptance speeches, and there were definitely some mixed emotions to who won an Oscar that night. So let's relive the wonderous moments from this year's Academy Awards… 
2019 Academy Award Winners:
Documentary (Feature) — Jimmy Chin and Elizabeth Chai Vasarhelyi, Free Solo                                                                
Animated Short Film — Domee Shi, Bao
Documentary Short Subject — Rayka Zehtabchi and Melissa Berton, Period. End of Sentence.
Visual Effects — Paul Lambert, Ian Hunter, Tristan Myles and J.D. Schwalm, First Man
Live Action Short Film — Guy Nattiv and Jamie Ray Newman, Skin
Best Original Screenplay — Nick Vallelonga, Brian Currie, Peter Farrelly, Green Book
Best Adapted Screenplay — Spike Lee, Sean McKittrick, Jason Blum, Raymond Mansfield, Jordan Peele, BlacKkKlansman
Original Score — Ludwig Göransson, Black Panther
Original Song — Lady Gaga, Mark Ronson, Anthony Rossomando, and Andrew Wyatt, "Shallow," A Star Is Born
Best Actor in a Leading Role — Rami Malek, Bohemian Rhapsody
Best Actress in a Leading Role — Olivia Colman, The Favourite
Best Director — Alfonso Cuarón, Roma
Best Picture — Green Book
Actress in a Supporting Role — Regina King, If Beale Street Could Talk
Makeup and Hairstyling — Greg Cannom, Kate Biscoe, and Patricia Dehaney, Vice
Costume Design — Ruth E. Carter, Black Panther
Production Design — Hannah Beachler and Jay Hart, Black Panther
Cinematography — Alfonso Cuarón, Roma
Sound Editing — John Warhurst, Bohemian Rhapsody
Sound Mixing — Paul Massey, Tim Cavagin, and John Casali, 
Bohemian Rhapsody
Foreign Language Film — Alfonso Cuarón, Roma
Film Editing — John Ottman, Bohemian Rhapsody
Actor in a Supporting Role — Mahershala Ali, Green Book
Animated Feature Film — Spider-Man: Into the Spider-Verse, Bob Persichetti, Peter Ramsey, Rodney Rothman