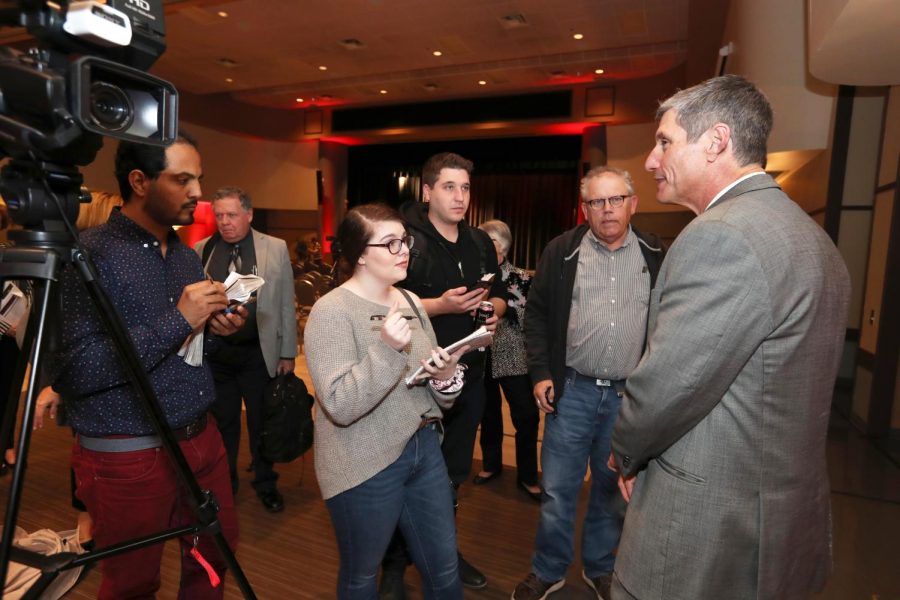 "What's a nice guy like you doing in a place like this?" our new Chancellor jokingly asked. He answered his own question with explaining how he was looking for a place to really transform state higher-education for the 21st century.
Dr. Dan Greenstein, the new Chancellor of Pennsylvania's 14 state universities, rolled out his plan for the future of the system to California University of Pennsylvania's faculty, staff, and students on Thursday, Oct. 25. 
Greenstein's resume includes a position as senior advisor and post-secondary success director of the Gate Foundation, an initiative started by Bill and Melinda Gates, as well as the Vice Provost of the University of California focusing on academic planning and coordination efforts. 
Receiving his undergraduate degrees from London School of Economics and Political Science with a degree in Political Sociology and the University of Pennsylvania with a BA in History, Greenstein would later go on to get his Ph.D. from Oxford University in Social Studies. 
"The begin my career amongst you. I continue my career amongst you."
The chancellor opened his discussion by stating that he saw an opportunity to reimagine public higher education within the state system. 
However, Greenstein did not shy away from the issues that all of the 14 PASSHE schools have faced. Not only do we have these issues to face, but they are also confronted by cut-throat competition.  He cited an outdated business model, lack of overall students as problems for the decline in enrollment. He mentioned how we struggle to deliver a quality education because we have focused on an evaluation system modeled in the 1950's. Greenstein said the demands of students, needs of employers, and school funding have all changed fundamentally.
"There are more seats then there are traditional students," said Greenstein, "there are populations of students who are unserved who could be served, adult learners, low income, students of color, single working parents, but educating these students means a fundamental rethinking of our practice and our approach." Some of the questions Greenstein told faculty and staff to ask are, "Who are our students? What can they reasonably afford? What are their needs?" Teaching different demographics requires faculty and staff to take different perspectives.
All of these issues facing the system go hand that Greenstein described as "technical issues" that are a part of a bigger problem- changing the culture. In what he called a distrust between the groups responsible for the progression of the universities, such as mistrust between faculty and staff, and between teachers and unions. 
He highlighted "uncivil discourse' as a major problem, and how we must stand together, suspend our disbelief and say "we've had enough."
 "We can transform our culture," stressed the chancellor, "And when we do transform our culture, it will create the environment in which the inclusive and courageous conversations we must have to chart our course as a system of universities can occur."
He went further to detail his plans to strengthen the conversations through the redesigned of the system and finding answers to the questions about the identity of the system. 
Much of the chancellor's speech focused on creating a system that he would be designing a long-term plan for a university for the future. He mentioned how the faculty and staff are responsible for Cal U's student success. Greenstein discussed how the faculty and staff need to work together to unleash their creativity.
 "You care deeply, as I do, about our students and our mission."
Towards the end of his speech, Greenstein made pledges to Cal U. 
 "I will work tirelessly for our students, regardless of their background or zip code because I believe they must have an opportunity to succeed." He made a promise to strive for greater equality and social justice for everyone involved in PASSHE. 
"I promise you that I will make mistakes, because I am human." He added that Cal U should hold him accountable. 
The floor then opened up to an open forum for anyone, faculty and students, to ask questions.
The first question was asked by the American Sign Language translator present at the address. 
She asked, "What would you do to improve the opportunities for the differently-abled students in the fine PASSHE system, all 14 campuses?" He responded by reinforcing his goal to identify students, groups, programs, and their specific needs. He also enforced how these kinds of decisions will be made by faculty and staff local to their specific schools, and not by officials in Harrisburg.
Ellis Atkins, a Cal U Senior asked, "How will you bring a more diverse staff into the education systems?" Greenstein responded by saying he will give visibility to the gaps between students of different backgrounds. 
Other questions were raised, such as how he would create a sustainable system for the future, how will a new tech system be implemented, and what is the strategy in engaging the community. The answers Greenstein gave all contained the same essence of identifying individual issues and working together with students, faculty, staff, and the community to create a more positive and successful culture. 
"It's going to be a wild ride," Greenstein concluded, "I believe in us, and all of you." 
Prior to the event, members of the Cal U community joined Greenstein for an early morning bike ride at 7 a.m., as part of his visit to our university.
President Geraldine M. Jones gave the introduction and thanks for Greenstein's address. Amongst the audience of students and faculty, PA House Representatives Tim O'Neal and Bud Cook were also present.