Christen Press-Houston Dash drama a bad look for NWSL
Hang on for a minute...we're trying to find some more stories you might like.
After three years in the National Women's Soccer League, Christen Press is going back to Europe to play professional soccer for IFK Göteborg.
The conclusion to go back abroad – Press formerly featured for the Swedish club in 2012 – came after weeks of holding out of preseason for the Houston Dash.
In a three-way trade, Press was sent down south to the Dash, the club she specifically noted that she didn't want to get traded to. Instead, the Chicago Red Stars, whom Press has made 68 appearances for, traded her away.
The trade was part of a giant, three-way trade between the Houston Dash, Chicago Red Stars and Sky Blue FC.
Press certainly got the short-end of the stick, but she didn't even give Houston, who is under the leadership of new head coach Vera Pauw, a chance. She never attended a training camp. The decision to not do so also landed her in hot water with the U.S. Women's National Team.
USWNT Head Coach Jill Ellis said that Press wasn't called up on the latest roster against Mexico due to not being affiliated with a club.
Press' situation ended Monday, March 26, after she signed a contract with IFK Göteborg. The contract will run until the summer.
In the deal, Houston loses the NWSL rights to Press. After the contract ends, she could pursue other opportunities around Europe – including in England, France and Germany – or return to the NWSL.
"I'm looking forward to joining my former club @goteborgfc and having a successful three months there. Upwards!" Press wrote on her Twitter account.
"For reasons that are clear to me and for the betterment of my career I have chosen to play overseas this season," Press wrote in a separate tweet. "I respect and appreciate the opportunity that Houston afforded me. Thank you to everyone supporting me through these tough decisions I've had to make for my career."
Houston, on the other hand, didn't quite keep diplomatic with their response to the news.
"While we are disappointed in her decision and would have enjoyed having her talents here, we are comfortable with the outcome given the positive things happening around the club," the Dash wrote in a statement. "We will retain Christen's player rights in the event that she decides to return to the NWSL in the future."
Oh, Houston. Sorry about that.
When the summer occurs, Press is no longer tied down, rights-wise, to the Houston Dash. She is free to pursue other opportunities in whichever league she chooses.
Even though I am a fan of the NWSL, I am a bigger fan of American players featuring in leagues abroad. Despite the large – and I mean large times 50 – between men's and women's soccer, especially in leagues, playing in Europe versus American leagues is the obvious and best choice.
Europe is where players get the best coaching and go up against the best talent.
Sure, the NWSL has some incredible talent with players like Marta, Christine Sinclair and Alex Morgan. However, Europe has something that the NWSL will never have: the Champion's League.
For Press to just not give Houston a shot is outrageous. Pauw is a different kind of head coach, and she completely took Houston's roster and flipped it around. However, Press was given a golden opportunity to be the star player for the Dash. With Kealia Ohai still recovering from a torn ACL injury, that she suffered last season, Press was the star on the team.
She claimed that going back to Europe to play in Sweden was a "tough decision" that she had to make for her career.
However, Press not giving the Dash a shot was the tough decision. She never gave Pauw a fair chance to explain what she wanted to do.
It's not like Pauw is a bad head coach either. She formerly led national teams like Scotland, South Africa, Russia and the Netherlands.
That's not a bad resume in soccer.
Press might have gotten the short end of the stick, but sometimes when you're a professional athlete in such a small league, you don't always get to call the shots. Press might have the mentality that since she's a USWNT national team player that clubs need to bow to her, but the Dash weren't budging.
In the end, the Press-Dash conundrum was nothing but a bad look for the NWSL. Both teams now need to learn from their mistakes.
Should Press come back to the NWSL, no matter what team she chooses, Pauw and Houston will certainly circle that match around their calendar.

About the Writer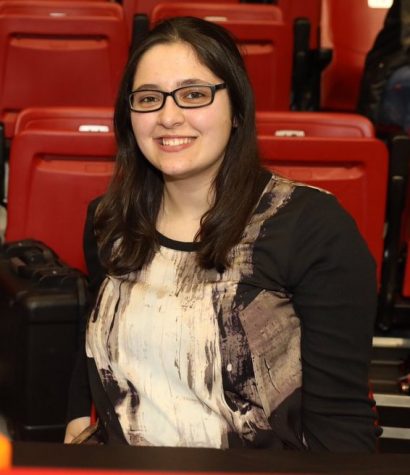 Rachael McKriger, Editor In Chief
In her senior year of college, Rachael McKriger is serving her second consecutive term as Editor-In-Chief of the California Times in the 2017-18 school...