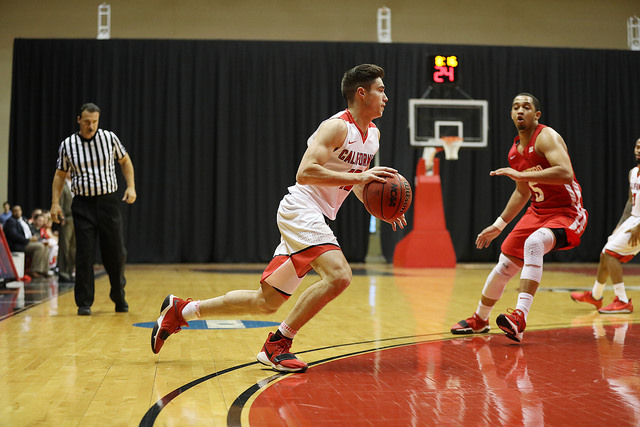 When Jordan Gessner arrived on campus in the fall of 2017, he had one goal on his mind: to walk onto the basketball team at California. This goal stems from his resilient spirt and his love of the game.
Gessner hails from the small town of Elizabethville, Pa. in an area where high school athletes transitioning to the next level is a rare feat.
Along with being named to the Harrisburg Patriot News Second-Team Big 15 squad, he was also on the schools two league championship teams. His athletic career did not stop with basketball either, as he saw the playing field on the men's soccer team as a junior and senior for the Trojans.
Gessner joined the California men's team after he was selected from the open tryouts. He achieved his goal, but he knew it was only the beginning.
At the next level of competition, Gessner noticed a variety of differences throughout the game of basketball. Whether it is height, speed or even the ability to dunk, the opponents from Gessner's Tri-Valley League in high school got an upgrade when he stepped on the court in the Pennsylvania State Athletic Conference.
"The tempo of the game is so much faster," Gessner said. "Every possession seems a lot more important, so every mistake is magnified."
However, he feels that his new team has helped him not only settle in but, become a better player.
"I learn a lot from my teammates play styles," Gessner said. "I realize what they do good, and add to my game from that."
His transition didn't end there. As he was primarily used off the bench in his freshman year, this season brought him a new challenge.Injuries have played a big part in shortening the roster for the Vulcans, as many players have spent time off the court nursing themselves back to health. This lead to Gessner seeing the starting lineup multiple times. Making the jump from the supporting cast to main act is a tall task for anyone, but Gessner was up for the challenge.
"I try to do a lot without doing too much, so I fit in well with those who have been playing all year."
Making sure that he can hit the court  and contribute to his team without disturbing what has already been established is exactly the kind of mindset any coach would want their players having. As this season begins to draw to a close, Gessner feels as though he has grown as a player and individual.
"Personally, I need to get more comfortable with taking shots and being a playmaker," Gessner said.
Coach Kent McBride has praised him for his defensive efforts, so naturally he would want to work towards becoming an all-around type of player who can work both sides of the floor.
Speaking for the team, he states that those goals aren't set in stone yet as this season is still underway. But, he hopes that the team continues to grow just like he has.
"I just want to see improvement every day from the guys as individuals," Gessner said. "Hopefully that translates over to the team as a whole."
California hits the road this Saturday to take on IUP and then finishes out the season on a two game home stand when Seton Hill visits on Feb. 21 and Clarion on Feb. 24 for Senior Day.