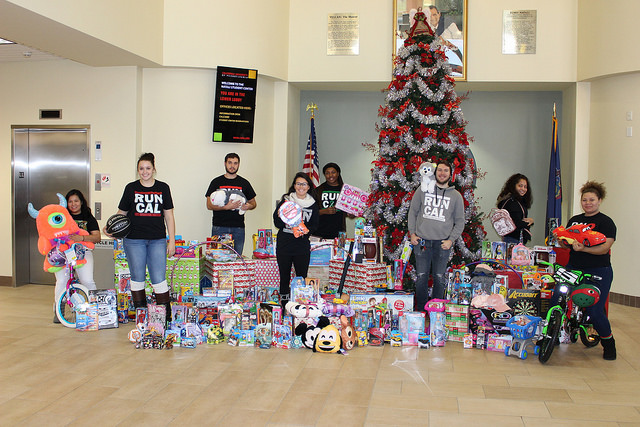 Daniel Beeck
As students made their way back to the campus of California University of Pennsylvania, so too did barbies and bikes as the seventh annual Toys for Tots "Stuff-a-Bus" event took over the Natali Student Center.
Emily Moyer, treasurer of Student Government and the event coordinator, has participated in the "Stuff-a-Bus" event every year she has attended, but this year meant more to her.
"This is the first year that I've actually ran the event, so it has been a little bit stressful," Moyer said. "It's fun to give back though, I really enjoy doing service projects and giving."
With donations worth more than $1,400, the Student Government Association (SGA) loaded a school bus for the 96.1 KISS radio stations "Stuff-a-Bus" program that took place at the Robinson Town Centre.
Members of the SGA gathered toys from the Brownsville Walmart and staged them in the lobby of the Natali Student Center before making the trek to Robinson.
Vianey Almarez, corresponding secretary for SGA, helped to pick toys out for the event at Walmart, and it brought her back to her youth.
"We went shopping with all of the donations that we received, and it was really fun to pick out toys," Almarez said. "It made me feel like a kid again."
Along with the donations from SGA, the Center for Volunteer Programs and Service Learning, the Athletic Training Club, Student Activities Board and SAI also contributed to the cause.
The help from Cal U students and clubs helped 96.1 KISS to pack 59 busses, which was a new record for the event.
The donations are still being accepted, as Washington County will have drop off locations until Dec. 14.
High schools across southwestern Pennsylvania donated to Toys for Tots, with South Fayette collecting over 4,000 toys, an increase from 450 last year.
Donation bins on campus will be located in the Natali Student Center and Steele Hall from Dec. 7-10 during the theatre's production of The Happy Elf.
For the seventh consecutive year Cal U's Student Government Association loaded a school bus with donations for the 96.1 KISS Stuff-a-Bus program for Toys for Tots. @stugovcalu @SAIatCalU @CUTV_NewsCenter #caluproud pic.twitter.com/jky9V063h1

— CalTimes (@CalTimes) December 1, 2017