Band Spotlight: PVRIS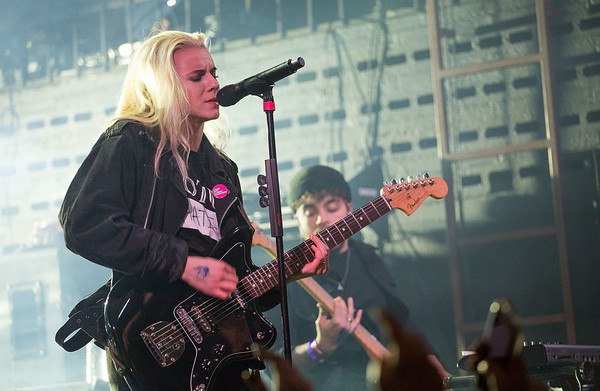 Hang on for a minute...we're trying to find some more stories you might like.
If you don't know the name PVRIS by now, you definitely should. 
The Lowell, Massachusetts trio, comprised of Lyndsey Gunnulfsen (lead vocals and guitar), Alex Babinski (guitar) and Brian MacDonald (bass), have taken the rock world by storm over the past couple of years. 
The band first started under the name "Operation Guillotine" in 2012 then changed it to "Paris", which is how the band's current name is pronounced. After a legal battle over the word "Paris", the group was forced to change the "a" to a "v". 
In 2013 – still under the name "Paris" – the group released their self-titled EP and went on a mini-tour with Love, Robot. During the 2013 Warped Tour, they played on Ernie Ball's Battle of the Bands stage after they won a contest. On July 26, the band officially changed their name to "PVRIS". In December, the group started teasing that they were going to be recording new music soon. 
After releasing another EP, Acoustic, PVRIS announced that they had signed to Rise and Velocity Records. On June 24, 2014, they released "St. Patrick" as their first single off their debut album, White Noise, along with a music video for the song. They went back to Warped Tour in the summer of 2014 and once again played on the Battle of the Bands stage. During their time on Warped Tour, the Huffington Post named PVRIS as one of "18 Artists You Need To Know Halfway Through 2014". 
On Nov. 4, 2014, PVRIS' much anticipated debut album, White Noise, was released. The album received positive reviews, with Metacritic giving it an 88 out of 100. It charted in the top 100 United States – peaking at No. 88 – and in the top 200 in the United Kingdom – peaking at No. 55. It also ended up peaking at No. 6 on the US Billboard Top Alternative Albums chart. The album also won PVRIS the 2015 Relentless Kerrang! Award for Best International Newcomer and the 2015 Alternative Press Music Award for Breakthrough Band. 
After supporting bands such as Pierce the Veil, Sleeping with Sirens, Bring Me the Horizon and Fall Out Boy, PVRIS headlined their own tour from May 11, 2016 to June 10. They also played at Chicago's Lollapalooza music festival for the first time that July.
Later in 2016, PVRIS traveled to Utica, New York to record their sophomore album in a haunted church that was turned into a recording studio. After several cryptic social media posts and letters sent to fans "mourning the death of PVRIS", the band released their first single, "Heaven", on BBC's Radio 1 Rock Show on April 30, 2017. 
In May, their second album, All We Know of Heaven, All We Need of Hell, was announced with an Aug. 4 release date. Their second single, "What's Wrong", debuted on June 13 on Annie Mac's BBC Radio 1 show. 
On July 18 the band announced that the album release date was pushed back to Aug. 25, citing last minute production tweaks. Two days before the release, on Aug. 23, PVRIS released another single, "Anyone Else", on social media. 
On Aug. 25, 2017, All We Know of Heaven, All We Need of Hell was officially released. The album received positive reviews, debuting at No. 1 on the UK alternative chart and peaking at No. 8 on the US Top Albums chart. 
Starting on Sept. 15, PVRIS will begin their second headlining tour. The North American leg of the tour will go until Oct. 23, while the European leg will begin on Nov. 02 and end on Nov. 30. 
With their alternative rock roots mixed with electropop and synthetic pop sounds, PVRIS has a unique style all their own. They are well on their way to becoming a household name in alternative/rock music.