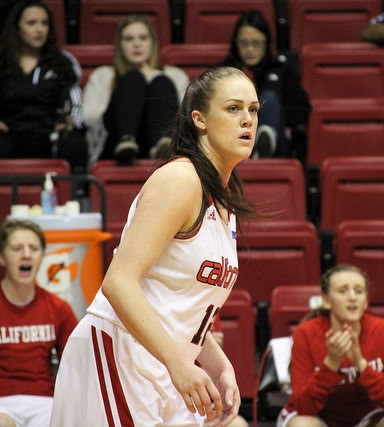 Rachael McKriger
Lana Doran has come a long way in the short span of one year.
Last year, Doran was a redshirt senior for the women's basketball team at California University of Pennsylvania. She was in sweatpants and a Cal Vulcans jacket on the bench. She was there to cheer her teammates on, but she wasn't on the court like she wanted to be. Instead, she was nursing a torn ACL injury and rehabbing while her teammates battled on the court.
This year, it's much different.
Doran, 23, is a regular starter for the basketball team, having racked up 788 minutes on the court. She still checks in on her former injury, to make sure everything is taken care of, but doesn't normally like to look back on that time. Instead, she looks forward to the game she'll be suiting up for, alongside her teammates.
"I was devastated when I tore my ACL," Doran said. "It wasn't something that I could predict, and it wasn't in my plans whatsoever. I was at home in London the summer before my senior year just working on my game. I was probably at the best place I'd ever been with my game, in regard to my confidence, my skill level and my shooting percentage. I was really ready for my senior year."
"I tore my ACL on September 30, so it was right at the end of the preseason," Doran continued. "I had never really been injured before, so it was my first real battle so it was time facing adversity. Rehab was tough, patience wise. I didn't have any then, but now I do. It just made me see basketball from a whole different perspective. I wanted to help people learn, and that came from watching and not playing. Then I went home, and I had a really good physios, and now I'm ready for my real senior year."
Doran said she sees herself as a teacher when it comes to helping others who have torn their ACL. She sees athletes who are going through the same injury she went through, and are trying to help them. She wants to remain a positive role model for them, while also respecting what they're going through. She's been down that road, but she also knows that everyone's rehab is different than anyone else's.
"It made me want to encourage people a lot more, instead of being harsh," Doran said. "It showed me that you can bounce back and you can come back and be in the starting five again. You can come back and average 30 minutes, even though you tore your ACL the season before. The girls that have torn their ACL, they see me and they see that they can do it too."
It's not just being in the starting five that Doran cherishes; she takes pride in the fact that she plays well. She has scored 242 points, while also providing 60 assists and has grabbed 86 rebounds. Recently she bounced back from only scoring a combined 16 points in the last three games out of four games and scored 19 points against Clarion University in Cal U's 79-54 win over Clarion on Saturday.
This week is the final week of the regular season for the Vulcans, who have already clinched a spot in the PSAC Playoffs, leading the PSAC West as the No. 1 team. Doran is excited for the last two matches, but is particularly excited for Saturday's game against Indiana University of Pennsylvania. The reason? It'll be Doran's senior night, as well as her fellow seniors: Precious Martin, Miki Glenn and Brittany Nelson.
"I'm really excited about it," Doran said. "It's a really nice group of girls I'll be alongside. My best friend from my old school is coming to escort me, since my family is in London. I'm pumped about it. It'll be nice to play alongside them for that game. Brittany and I are really close, since we both rehabbed together. Precious and I have been close since I came my junior year, and Miki and I have a great relationship and I have a lot of respect for her."
Lastly, Doran said the thing she'll miss most about Cal U- she will graduate in May- is the family aspect surrounding Cal U women's basketball. She credits all three of her coaches- head coach Jess Strom and assistant coaches Katie Tetzlaw and Kelly Sabo- for providing that family environment.
"I'm so close with them," Doran said. "They're mentors, really. That's how I'd describe them. They're mentors, friends, teachers. They keep everything really honest with me, but if I ever need anything they would be there for me. They've really worked with me on my game, especially coming back from injury. They gave me the confidence in me to get back on the court."
Doran, who said she would return to London after college in hopes to pursue a professional career somewhere in Europe, said that the coaches, and teammates, helped make her transition from living in the United States from England a lot easier. Doran proclaimed that they've helped her get used to the culture, but was already well-rounded in the independent lifestyle aspect.
Doran said that she hopes to come back and visit Cal U when her college career is over, but is excited for the next challenge ahead of her. First, she will graduate in May before moving back across the Atlantic. Even before doing that, Doran will look to make a run at the PSAC title and another NCAA title with the women's basketball team.
The senior night game will be held on Saturday, with tip-off scheduled for 3 p.m. Fans and students are encouraged to attend early to take in the senior recognition.