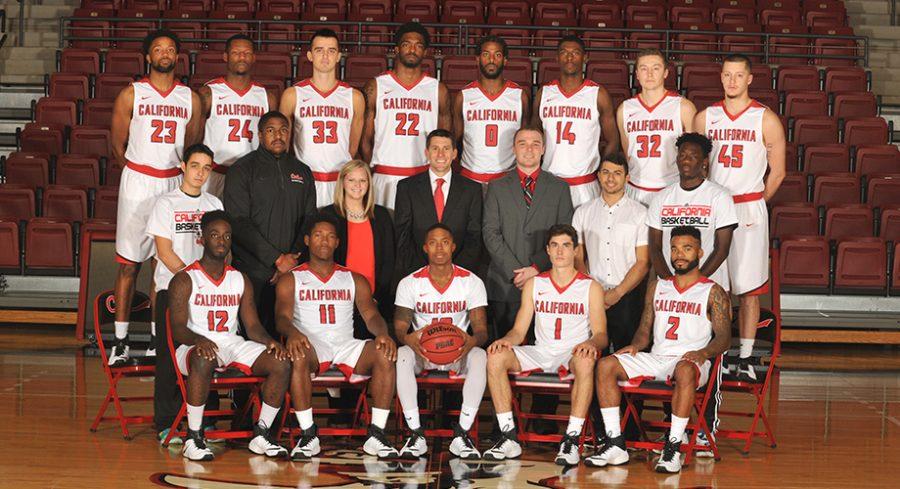 Stephan Bates
A season that started with a lot of uncertainty, due to the new coaching staff making changes, the Vulcans were poised to compete in the PSAC West. Head Coach Kent McBride brought in key players that fit his scheme to wreak havoc on the opposing teams, and so far, they are performing the way he intended.
With a record of 8-14 on the season, they are still on the brink of a playoff spot, being one spot of out a bid. With a big matchup coming this weekend against Seton Hill (the current six seed) the Vulcans are vying to jump the Griffins if they can execute on the road.
As previously stated, some key players on the floor for California were brought in on the off-season, with Robel Teckle, Rashawn Browne, and Jay Tucker crashing the boards and giving the offense more opportunities. This season, the Vulcans have averaged just about 72 PPG, along with 38 rebounds, opening the door for scoring as the game progresses.
With a three game run starting on January 21st and ending on February 1st, the Vulcans came together and worked hard to get three big wins at home. Outscoring their opponents 211-182 during that stretch, the Vulcans need to buckle down for the next few games in order to get the much needed wins.
Luka Andjusic, the teams leading scorer has averaged double-digits this season and also ranks among the top five on the team in 3-pt FG's and rebounds. Tony Richardson has also had one heck of a season, being a force in the lane, getting rebounds and converting on the put-back. With an average of 7.6 rebounds a game, along with 9.1 PPG, Richardson is a conversation starter to say the least.
Switching over to the newest players lacing up for California, Robel Teckle and Rashawn Browne are a perfect duo for McBride to set up some defense slicing plays. Browne is the team leader in assists thus far, helping others on the court find the net with ease. Teckle helps his team on the floor by moving the ball and getting to the hoop.
Ball movement for the Vulcans is one big change that could help them moving forward. Finding the open player on the floor allows for the shooter to take their time and find the backboard.
This season for the Vulcans was a proving year. They showed the supporters and fans of the team what they are about and what heart they have on the court. As said before, with a few more pieces on the floor, they worked with what they had, and the results are pleasing.
Kent McBride has done an outstanding job with his team this season and in a few years, look for a banner in the rafters of the Convocation Center.