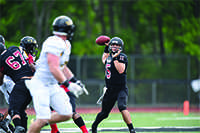 The California University of Pennsylvania Vulcans Football team is coming into this week's game against Slippery Rock with a new title, as AFCA has tabbed them No. 24 in the country.
   The Vulcans are fresh off of a 59-17 victory against a strong passing game in Seton Hill, this past Saturday. The Vulcans have outscored their opponents 199-20 thus far, however, this week's game against the Rock will be a great gauge as to what this team could achieve later in the season. California also had two offensive players in the PSAC's spotlight, as Michael Keir achieved the West Offensive Athlete of the Week, and Garry Brown was tabbed the West Special Teams Athlete of the Week. Kier also became the fourth quarterback in school history to throw six touchdowns in a game, while completing passes to seven different receivers.
   The next two weeks will be the best test for California, as they have to face off against IUP the week after Slippery Rock. The Rock is a team that likes to run a balanced offense, leaning towards a passing game that has racked up 10 touchdowns with 1127 total passing yards. Slippery Rock is coming off of a 34-13 win over a Gannon team at home. They came out of the gates hot, scoring 17 points in the first quarter of play. In the first quarter of this week's game, look for both sides to put up points, as aforementioned before.         California will have to take advantage of Slippery Rock's defense, utilizing both the extensive list of running backs, and their talented receiving core. On the defensive side of the ball for the Vulcans, this is their first big test for the season. Last week, their first test was a Seton Hill passing team that put up 384 yards, still resulting in a loss though. Michael Kier is coming into Adamson Stadium throwing 13 touchdowns, six of which, to Garry Brown. Getting all of his targets involved is something Kier likes to do as well, completing passes to seven different players, along with throwing six touchdowns this past week. He also became the fourth quarterback in school history to achieve that feat.
   The game between the Vulcans and Slippery Rock is slated for 1 p.m. at Adamson stadium.