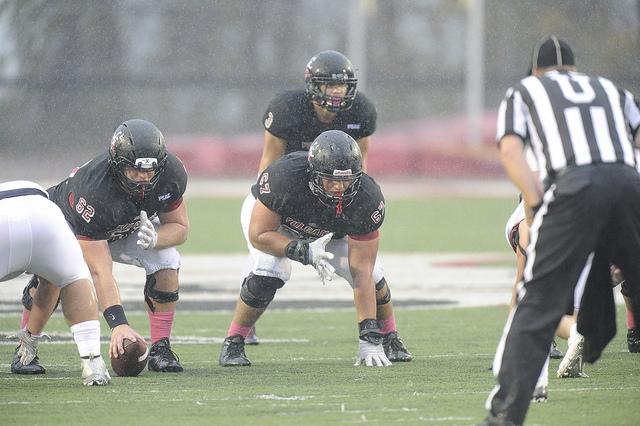 Don Wright/Sports Information
California University of Pennsylvania traveled to Cheyney, Pennsylvania this past weekend to take on the Cheyney Wolves for the first game of their season. Coming off a 21-20 win over Lincoln (PA) for their first win in 43 games, Cheyney had the momentum coming into the contest on Saturday. This was also the first time new Head Coach Gary Dunn ran out on the field representing the Vulcans football team.
Michael Kier was named the starter and made his presence known early as he hit Garry Brown with a 72-yard pass in the middle on the field to put the Vulcans on the board with 11:32 left in the first quarter. Just three minutes later, Brown was on the receiving end of yet another pass from his quarterback as the Vulcans extended their lead to 14. After their passing game started early, Jalen Bell pushed a pile of defenders into the end zone with him as the first quarter ended with a score of 21-0.
Cheyney had a great drive going to open the second quarter, but unfortunately only came out with a field goal. Senior RB Ryan McCauley dove into the end zone for the Vulcans yet again as they answered the Wolves score right back, extending their lead to 25. The Vulcans then scored back-to-back touchdowns after Tom Greene and Jordan Dandridge both scored to end the half, with California in the lead, 42-3.
The third quarter was an impressive display of both offense and defense for the Vulcans, resulting in two defensive touchdowns and one safety to extend the California lead even more. The game ended with a final score of 79-3 as the Vulcans captured their first win of the season. Michael Kier tallied 5 touchdowns and 211 yards, and Nick Grissom had 109 yards on 6 attempts.
California will take on Millersville University this upcoming week as they look to continue their offensive success.