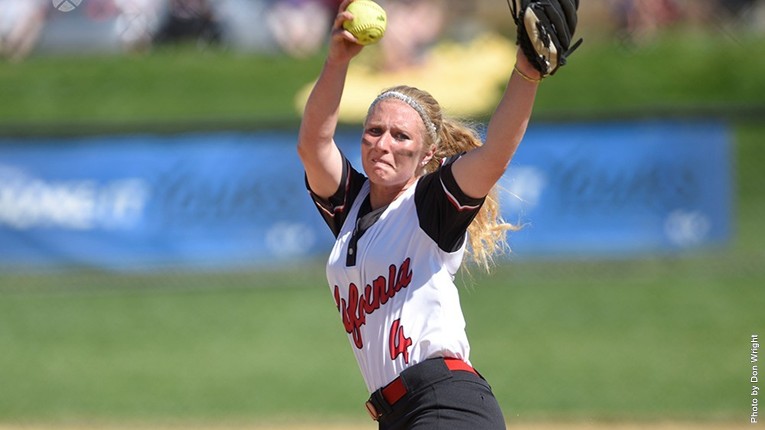 Don Wright/Sports Information
This past weekend, a record was extended, then snapped as the California University of Pennsylvania Vulcans softball team lost at home to Slippery Rock.
On Saturday, April 16, the Vulcans took on the Mercyhurst Lakers in a doubleheader that ended in California's favor both times. With a 7-3 win, and a 6-1 win in the first two games, the Vulcans came into Sunday with hot bats and clear heads, focused on getting yet another win.
Senior Alex Sagl, who pitched against Mercyhurst the day before, got the start for the game, tallying 10 strikeouts. Aside from the one earned run that eventually was the game winner, the Vulcans had five hits and no errors, playing a fundamentally sound game.
In the second game, the Vulcans seemed to want redemption after losing their first game in 27 appearances, getting the 8-0 run rule on The Rock. In a huge first inning, in which they scored five runs, the Vulcans pushed the game out of reach and got the victory with ease, rebounding quickly after their unfortunate defeat.
The Vulcans baseball team had their fair share of wins and losses this past weekend, taking on the Crimson Hawks of Indiana University of Pennsylvania on Friday and Saturday. Games that were played both at home and away featured high offensive production and even a game that went into extra innings.
The game on Friday, April 15, saw a 10-5 victory at CONSOL Energy Park, along with a 9-8 defeat. The Vulcans are now 21-15 on the season, a record that has been saved thanks to offensive play and an outstanding defense. Many games this season were postponed/canceled, so make-up games are imminent as the season comes to a close.
The Vulcans have five more games left on the season, which could end on a high note, being that three of the last five are played at home.