Todrick Hall performs for Cal U Students
Broadway Actor, YouTube Sensation with over 2.1 million subscribers, and American Idol Finalist: Todrick Hall performed at Cal U last Wednesday. Hall has been recently named one of Forbe's Top 30 Under 30 Entertainers. He has choreographed for Beyoncé and starred in the opening number in the 2014 Nickelodeon Kid's Choice Awards. His viral YouTube videos such as "Beauty and the Beat", "McDonalds Drive Thru Song", and "Target Flash Mob" rank amongst the highest for views from his featured videos.
Sponsored by the Multicultural Affairs and Diversity Education during LGBTQ + Spring Pride, the star of MTV's "Todrick" was able to provide students in attendance with a meaningful and comedic form of entertainment. Hall came right out of the gates with very high energy and got the crowd on their feet immediately. During his opening song Hall gave his mic to student Justin DiPerna and had him sing along to Justin Bieber's "Sorry" while his dancers continued to slay in the background.
"I was expecting to see just a straight up show but it was so much more," DiPerna said. "I was excited and will not forget my experience."
To keep the audience entertained between his songs, Hall would play various clips from his YouTube channel to introduce what he would be performing next. Followed by those clips he performed a touching song that he wrote about dealing with bullying and making it through tough times in your life. A more upbeat fan favorite "Twerking in the Rain", a parody to "Singin' in the Rain" from the Broadway musical Singin in the Rain, ranked as one of the top highlights from the night due to Theatre major, Ryan Johnson, being invited on stage to join in the twerking event.
"It just felt like I was dancing with one of my friends," admitted Johnson. "He made me feel wanted on stage with him. That was pretty cool."
After the show commenced, Hall opened up the floor for a 30 minute questionnaire from the audience where many students told him how fantastic he was and that they love his work. A lot of students were interested in hearing about his performance on American Idol and his audition song.
When asked about his American Idol experience Hall shared his thoughts.
"I learned a lot about Hollywood and entertainment and the industry," Hall said. "It was an educational experience for me and I feel like I came back to L.A. with a vengeance and ready to really navigate myself through it because know I knew how it worked. I realized that I was playing a character on a TV show and you have to play the game to be successful."
Hall has a very large following on YouTube and various social media accounts. When asked about how he deals with his haters he provided a fantastic answer that can apply to a lot of people's everyday lives.
"One day someone wrote a rude comment to me and it really made me upset and I wanted to write them back and get back at them when one of my fans reached out to me and asked 'why would you waste time talking to this person when there are like 10 million of nice things you could respond to' and I was like that's a really good point and now I have a real rule I abide by so anytime I decide to give any attention to someone who is a hater I then have to go give attention to ten people who are supporters," Hall explained. "Honestly, I don't pay that much attention to the haters because I realize now that it comes from a place of their own insecurity."
At the end of the day Hall seemed to impress everyone in the audience leaving students with something to talk about and great memories to share with others.
About the Writer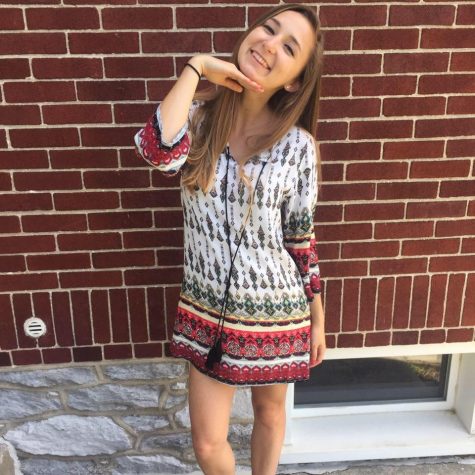 Jessica Crosson, Entertainment Editor
This is Jessica's third, and final, year serving as Entertainment Editor for the Cal Times and she is very excited and sad to begin her final semester...