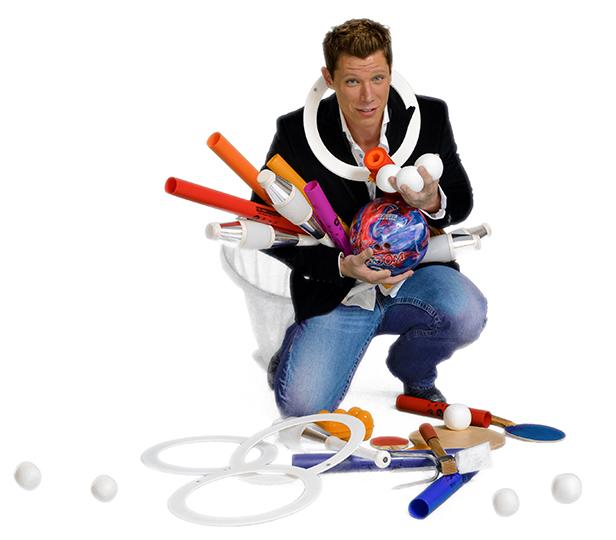 Two time world champion juggler, Adam Kario, performed a flawless show in the Vulcan Theater last Friday night for the Student Activities Board's 'Funny Freaking Friday'. He has been seen on the Bravo Network and he has recently returned from the Dubai Comedy Festival. His juggling career started way before he was performing at colleges and on TV.
   "I started juggling when I was nine years old. My dad taught me how," stated Kario. "A few weeks later my school had their first talent show and since I could juggle now I entered the talent show and then I got my picture in the paper with my name and everything. So there was a local juggling club where a bunch of jugglers got together and they contacted me because they found my name in the newspaper and I joined. Then me and my brother started working and we would perform street shows. I was nine years old doing something I really like, I could not stop juggling, and I was getting paid."
   Throughout the show Kario performed numerous tricks that continued to captivate the audience. One of those captivating tricks included taking a member from the audience, having him lay on the floor with his eyes closed, and then proceed to juggle machetes over top him. However, there was a trick to this, once the audience member's eyes were covered Kario sneakily switched the machetes out with plastic pins. Once Kario began juggling he got closer and closer to the audience member's stomach and purposely dropped one of the pins on his stomach causing a hysterical reaction from the audience member.
   "I thought I was going to die," exclaimed sophomore Jon Hershey. "I was really nervous when I first got up there. I didn't know what was going to happen. When the pin hit me in the chest I freaked out and went to sit down. I was shaking for the rest of the show."
To finish off an exciting night of laughter and sheer awe Kario had something special planned for the audience at Cal U. The lights went down in the Vulcan Theater and as the music began to get louder. Suddenly the stage became very bright as Kario's pins became illuminated and he began to juggle them. Many students saw this finale as the most impressive act.
   When asked about the difficulty of his final trick, Kario responded "It's actually a lot easier than performing with the lights on because everything besides the pins are dark and I don't have to worry about the lights reflecting off of the pins, rings, or balls."
As students began to clear out of the theater many of them stopped to shake hands with Kario and tell him how great of a job he did. Kario could not have been happier that he was able to perform at Cal U and receive that reaction that he did from the audience. He was very pleased to hear the comments from freshman, Tierney Iden, and believes that she summed up the show pretty well.
   "I literally started to cry instantly," confessed Iden. "It was that funny."