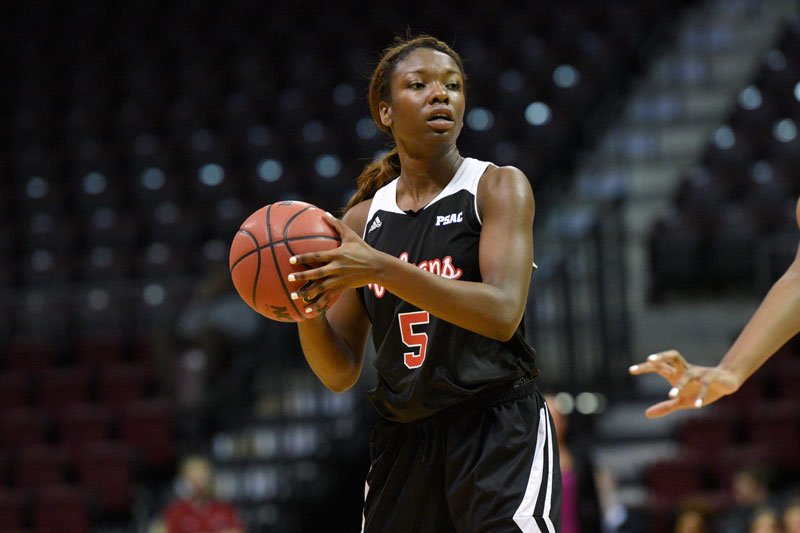 Don Wright/Sports Information
As the California University of Pennsylvania women's basketball team took the floor at home in the Convocation Center, they were playing against more than just the Lady Cats of the University of Pittsburgh-Johnstown. The Vulcans were metaphorically playing against every other team in the PSAC West, being that with this win, California could take first place in their division.
The game took on a whole different meaning during the first quarter when a foul on Shatara Parsons resulted in her anger being expressed after she threw the ball to the ground. The refs then called a technical foul, and just like that, she had three fouls. Her confidence took a hit for the time being, but she would not let that stop her later in the game.
Parsons wouldn't be the only player for the Vulcans in foul trouble, as Seairra Barrett was called on two fouls of her own in the first quarter of play. UPJ looked strong in the first too, which pressured California to step up their play even more. The first quarter ended with UPJ only possessing a 20-19 lead, and the Vulcans on their heels.
The second quarter opened with fouls and turnovers all over the floor for the Lady Cats, as California took the advantages and turned them into points, along with taking the lead. Freshman transfer from UPJ, Abbey Sporio, contributed in a big way for the Vulcans, hitting a long FG, along with a shot in the paint, extending the Vulcans lead to four right before half. The Lady Cats took on a 37-34 lead into the break.
Opening the second half of play, Barrett and Parsons used the energy they harnessed from getting benched after foul trouble, and used it as energy on the court, taking the lead right out from underneath UPJ. California wouldn't stop there either, keeping the pressure on their opponents and forcing turnovers left and right. On the game, 26 turnovers from UPJ allowed California to take a commanding 62-49 lead into the last quarter of play.
The Vulcans lead would hold up for the rest of the contest, giving up only 17 points to UPJ in the last quarter. California had a huge second half, putting up 50 points and securing first place in the PSAC West. This victory put them in a great position to take a first game bye into the playoffs and giving them home-court advantage.